The underwater world is vital for the future of ecological life.  While underwater serves as an attraction in tourism, it also contributes to the natural balance with its environmental elements. One such aspect is explored with underwater museums. Underwater museums reinforce social development and bring together shared cultures. Not only do they offer favorable options for underwater sports, but also they play a key role in the preservation of marine species and enhancing biodiversity. Some of the worldwide underwater museums draw people's attention to the ecosystem and environment. As Turkey's first underwater museum, Side Underwater Museum is observed to benefit the marine ecosystem.
People are interested in exploring the sea and underwater, due to the curious nature of human beings, and such interest sparks enthusiasm among tourism investors, as well. Current important initiatives include the underwater elements prepared for tourism purposes, in addition to the existing archaeological and natural texture. Conscious preservation of the archaeological and underwater archaeological heritage and dissemination of the knowledge of them raise awareness of preserving the environment, sea, and the ecology. Side Underwater Museum sets an important example in this regard.
Europe's Largest Underwater Museum: Side Underwater Museum
Built in Manavgat, Antalya by the Istanbul and Marmara, Aegean, Mediterranean, Black Sea Regions Chamber of Shipping's (IMEAK) Antalya Branch and with the support of the Western Mediterranean Development Agency (BAKA), Side Underwater Museum features the rich heritage of the Anatolian civilizations. The museum where 117 sculptures are exhibited is located nearly 1.5 miles off the coast of Side, at depths of 6-24 meters. The first underwater museum in Turkey, and the largest one in Europe, the museum attracts a great deal of attention, especially from international visitors.
Sculptures Featured at the Museum
Featuring five different themes, the sculptures and miniatures were put under conservation at the museum with buoys, placed without harming the marine fauna. The museum hosts sculptures of semazens (whirling dervishes), a Turkish flag and a Turkey sign, a flower garden dedicated to the memory of children who lost their lives on their escape from the war in Syria, a mermaid, a miniature of Temple of Apollo, Mevlana, Poseidon, the Ancient City of Ephesus, and thematic stories on the Turkish War of Independence.
The second-largest underwater museum in the world with 117 sculptures, after an underwater museum of 400 sculptures in Mexico, Side Underwater Museum is visited by approximately 10,000 divers annually. Scuba diving excursions are available, for 6-7 months of the year, at the museum where a 3,5-metres tall, 5-ton sculpture of Poseidon stands out as the largest sculpture.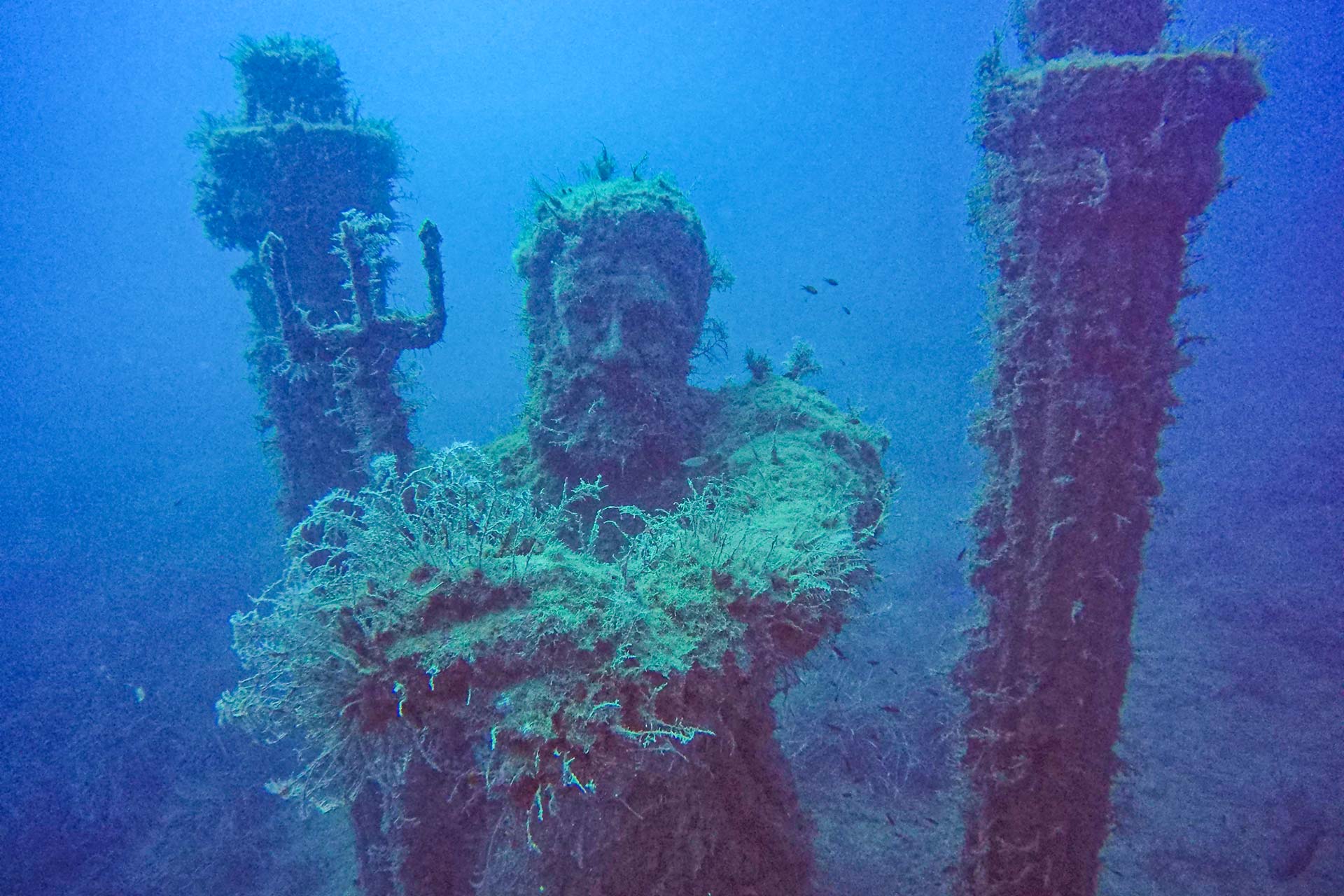 It Also Benefits the Marine Ecosystem
The opening of the underwater museum paved the way for a change and the museum became a habitat for the region's marine species. The population of fish and deep-sea creatures has been found to increase at the location of the underwater museum since it was opened. There used to be only a few species in the regions, but a whole range of colorful fish species has been encountered nowadays. Besides, species of sponges, which are indispensable for the deep-sea ecosystem, appeared, as well.
Ecological Awareness from an Underwater Park to an Underwater Museum
The first example of an underwater museum in history is the "Molinere Underwater Sculpture Park", created by Jason deCaires Taylor in 2006. British artist Jason deCaires Taylor developed the idea of creating an underwater garden together with some marine biologists when he worked for a scuba diving school in Grenada, and initiated "The Lost Correspondent" project upon his first attempt, influenced by his study in the art of sculpturing. Taylor aimed to draw attention to the coral depletion and damage to nature. Over time, the number of his sculptures reached 26. The world's first underwater sculpture park was born this way. Reflecting Taylor's dream of protecting nature, this garden is an initiative of shared wisdom and action.
The first sculpture park in Grenada is followed by "Museo Subacuatico de Arte" in Cancún, Mexico, another underwater museum by Jason DeCaires Taylor. The project initially had one hundred sculptures in 2009, and today it hosts 470 pieces of concrete sculptures. The artist employs non-toxic cement with a neutral pH value to create his sculptures. Thus, they are said to affect the biomass in the sea and contribute to the reproduction of some species.
"Museo Atlantico", which is located in Spain at a depth of 12 meters, is the first underwater museum in Europe. Based in Lanzarote, the museum is visited by divers only. The project is undertaken to combine arts and tourism to raise awareness of ecological development.
References
AA(2019),  Side Sualtı Müzesi 50 bin ziyaretçi ağırladı
https://www.aa.com.tr/tr/kultur-sanat/side-sualti-muzesi-50-bin-ziyaretci-agirladi/1634852
CNNTÜRK (2019), Side Sualtı Müzesi'nin büyüleyici güzelliği
https://www.cnnturk.com/turkiye/side-sualti-muzesinin-buyuleyici-guzelligi?page=1
ERKURT Osman, PAKER Serim (2014), Sualtı Arkeoparkları ve Deniz Turizmi, Dokuz Eylül Üniversitesi  Denizcilik Fakültesi Dergisi, Cilt: 6, Sayı:2, 135
NTV (2019), Side Su Altı Müzesi'ne Rus ve İngiliz ilgisi
https://www.ntv.com.tr/galeri/sanat/side-su-alti-muzesine-rus-ve-ingiliz ilgisi,YxhUoiXwEUCusw7xkzy_qw/iG0TsG70DEmgyKXZ4EDyyg
SÖZCÜ (2017), Avrupa'nın ilk ve tek su altı müzesi
https://www.sozcu.com.tr/hayatim/seyahat/avrupanin-ilk-ve-tek-su-alti-muzesi/?utm_source=dahafazla_haber&utm_medium=free&utm_campaign=dahafazlahaber
TRT HABER (2019), Türkiye'nin ilk su altı müzesi Side'de
https://www.trthaber.com/haber/yasam/turkiyenin-ilk-su-alti-muzesi-sidede-411731.html
YAZICI Ferit (2017), Günümüz Heykelinin Sergilenmesinde Alternatif Alan Olarak Sualtı Müzeleri, İdil Sanat ve Dil Dergisi, Hakemli Dergi, Cilt: 6, Sayı: 32, 1271-1278.