Arkas Logistics takes another pioneering step in railway transport… Having launched the first-ever first rail transport operations on the Baku-Tbilisi-Kars railway line in 2017, Arkas Logistics began transporting cargo to Europe on the transit route via the Marmaray line on the China-Turkey Iron Silk Road.
Starting railway operations on the China-Europe corridor with the commencement of intercontinental freight transport on the Marmaray line, Arkas Logistics brings cargo from China and transports them to Europe via the Marmaray line in a matter of 18 days. Intended as a once-a-week service, freight operations can always be increased with growing potential.  The service is expected to help increase and accelerate exports through non-stop goods transport.  Onur Gocmez, CEO of Arkas Logistics, said, "The start of freight transport operations in Marmaray will indeed demonstrate, more vividly, the importance of its existence and function. This was something the industry had been in anticipation of, for a very long time. We are an organisation that invests heavily in railway transport. And land terminals occupy a vital place in those investments. Land terminals ensure that rail, sea and land lines are converged in one single, uniform line to allow efficient distribution of goods. The land terminal Railport we are building in Kartepe/Kosekoy in partnership with Duisport is crucial in that regard and will be fully integrated into Marmaray. This promotes contactless operations, which became rather desirable in today's circumstances, as well as helping Turkey get a piece of the pie in terms of global logistics.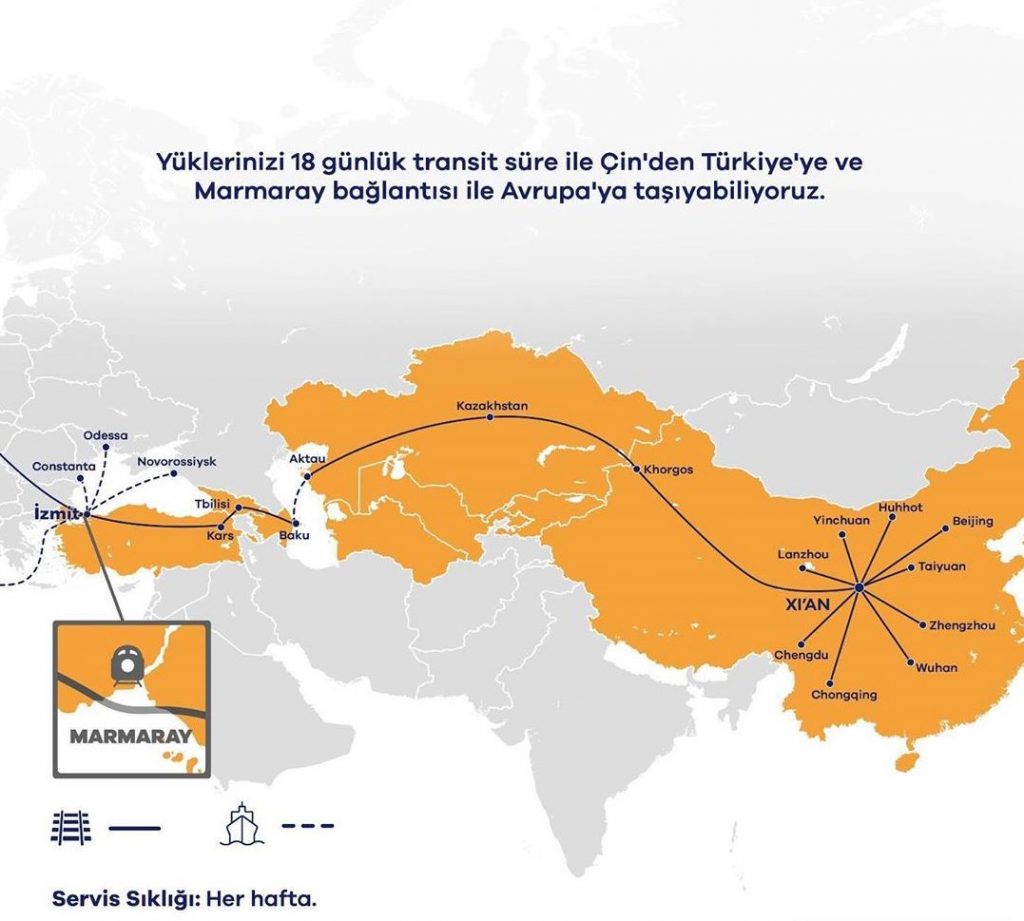 Door-to-door delivery from the China-Turkey Iron Silk Road to Europe
The iron-silk road service line of Arkas Logistics starts in XI'AN, China. Apart from door-to-door delivery, Arkas Logistics also provides pre- transportation of goods to the XI'AN station within this service. The line reaches Kazakhstan from XI'AN arriving subsequently at the port of Aktau on the Caspian coast. From there, it reaches Turkey following the Baku, Tbilisi and Kars route. Via Kars, it connects with the Marmaray line via Izmit after following the North Anatolian route and extends from there to Europe.
Revolutionizing the game in logistics…
Importing and exports goods from/to Turkey's key industrial cities and ports via the railway with more than 700 wagons in its fleet, Arkas Logistics had enjoyed the privilege of commencing scheduled services on the Baku-Tbilisi-Kars (BTK) railway line.  Arkas Logistics, having recently shipped electric aluminium cables with 30 wagons and 60 containers to the city of Osh in Kyrgyzstan, broke new ground by transporting goods to a location 5,500 km away at one go.