A pioneering sports club that has put a milestone in the history of Izmir and Turkey in the field of volleyball , Arkas Spor has just won the 8th major cup in its history. In the championship ceremony, Arkas Spor team presented the championship trophy to Arkas Spor President Lucien Arkas and Arkas Spor Vice President Bernard Arkas.
In the way to the ultimate victory, Arkas Spor defeated Ziraat Bankkart, and then Galatasaray HDI Sigorta in the finals to bring this cup to Izmir for the third time, reaching to its 8th championship in overall team history. The blue-whites won four league championships in 2006, 2007, 2013 and 2015. They also won the European Male Challenge Cup in 2009 to become the first male Turkish club to become Europe Champions. Having won the Kupa Voley this year, the third time after 2009 and 2011, Arkas Spor has now eight trophies in their collection.
In the celebration ceremony held at Arkas Holding building, Arkas Sports team presented the trophy to Arkas Holding President Lucien Arkas and Arkas Sports Vice President Bernard Arkas.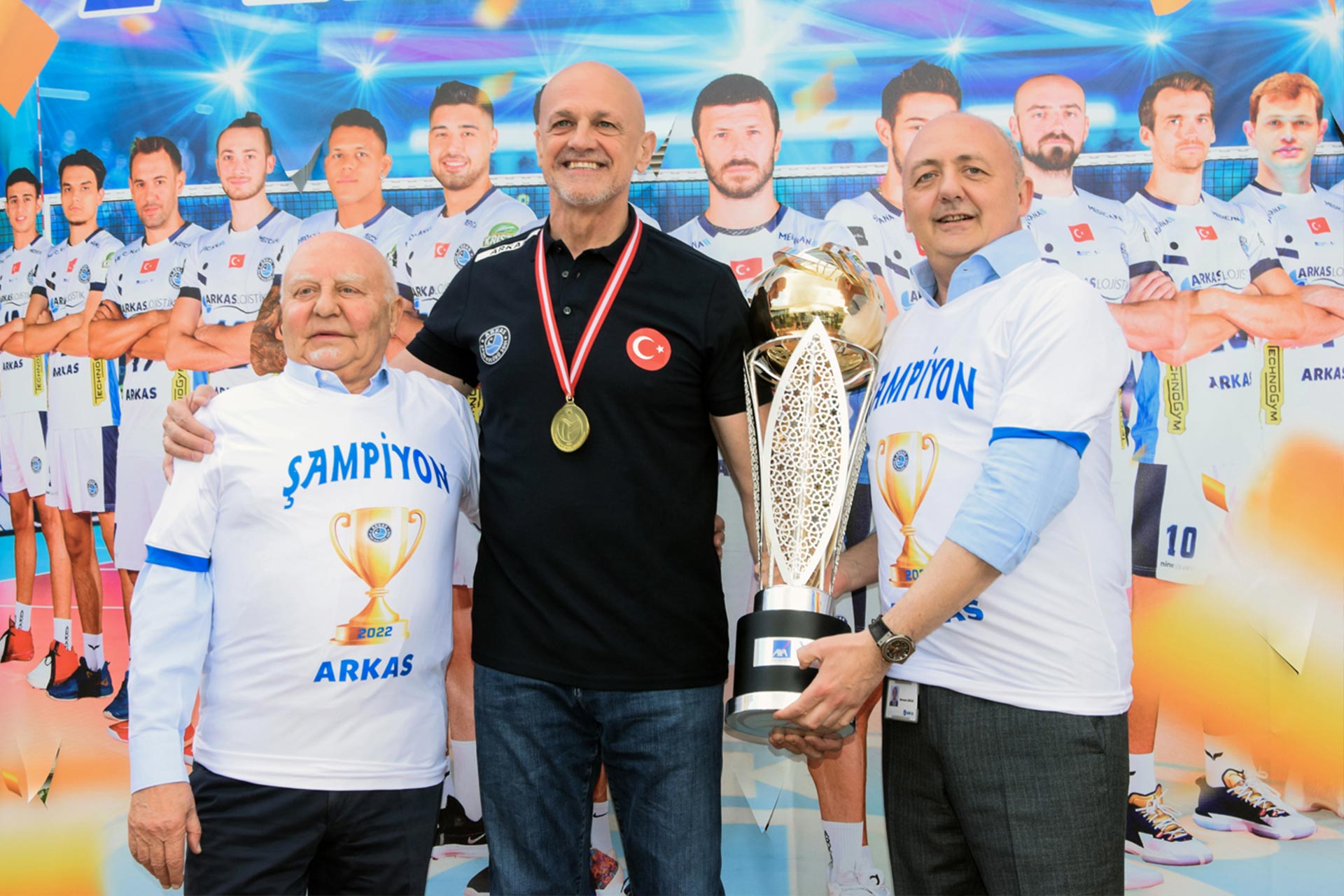 Speaking at the ceremony, Lucien Arkas said, "When I met Glenn Hoag 12 years ago I was tacitly hoping that we would become winners, but 12 whole years of camaraderie is quite a rarity. We want to work with him this much longer. If the Arkas youth can be raised to become symbols of success in Turkey, this is all thanks to Glenn. It is truly a pride to see Arkas-raised young players in many clubs in Turkey. Our young players can only succeed with management at a consistent logic. When the management and the coach are in harmony, then our young talents can focus solely on the game. This is what we get as a result. I advise our young players to keep working to achieve even more. I would like to extend my thanks to the entire Arkas Sports Team and congratulate every player individually".
Bernard Arkas said, "As Arkas Family, we believe in the same goals as our Coach, Glenn Hoag. In our works, we endeavour with the mission of raising the young, establishing our A team with our own players, as well as setting medium and long term objectives rather than short-term goals. This rather requires patience and hard work. Speaking on behalf of the Arkas Family and Glenn Hoag, we are both very lucky to have found each other".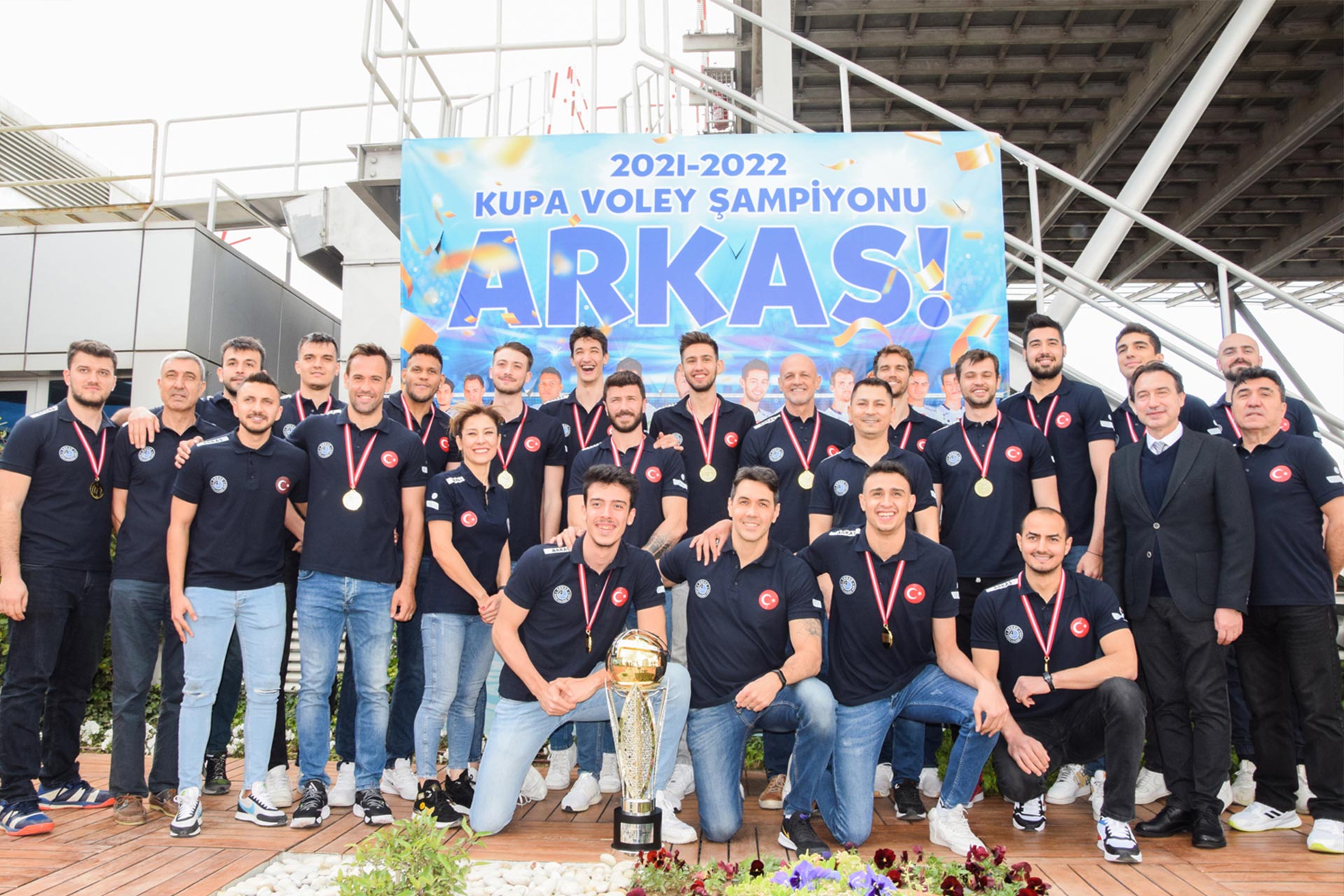 Arkas Spor Coach Glenn Hoag, said, "It is rare to come across a club like Arkas Spor whose main goal is to actually train athletes. Generally, the focus is on seasonal success, which throws athlete training in the long term out of focus. Arkas Spor operates with the objective of raising athletes, and with a real mission. I believe in the same values as the Arkas Family. To train young people in the young team, to achieve success with their contribution and to work on sustainable goals.
Endurance, and standing together as a team in the toughest of times is vital. The Arkas Family has always given its full support in the hard times we had. At times of injuries, after the games we lost, they have always stood by our side. This trophy is the achievement of this Family. I also want to congratulate our team. The technical team simply aced its work and kept self-developing. I would like to thank each of our trainers, everyone in our health team and all my colleagues who work in the club. This success would not have been without their support. We will continue to develop together in the coming period".
The goal is to get the 9th trophy!
After a huge morale boost in Cup Volley championship, Arkas Spor went on to defeat Halkbank 3-0 in Ankara in the first leg of the AXA Sigorta Efeler League Play-Off semi-final stage, taking a 1-0 lead in the series. Arkas Spor will play in front of its home crowd in Izmir on Thursday, April 21 at 15:00. The blue-whites invite all people of İzmir to see the series, where the first team to get two wins will advance to the finals. This time, Arkas Spor's goal is to add the 9th trophy to its collection.