Arkas Holding Vice President Bernard Arkas has become the Honorary Consul of France in Izmir. Many guests from the Arkas Family as well as the business community of Izmir attended the ceremony hosted by French Ambassador Mr. Hervé Magro to thank the previous honorary consul of France Ms. Zeliha Toprak and to welcome Mr. Bernard Arkas, the new Honorary Consul of France in Izmir.
During the ceremony held at the Hyatt Regency Hotel in honor of Arkas Holding Vice President Bernard Arkas' appointment as Honorary Consul of France in Izmir by the French Embassy, Arkas started his speech by extending gratitude to French Ambassador Hervé Magro and Former Honorary Consul of France in Izmir, Zeliha Toprak, and continued, "On behalf of all of us, we would like to thank Zeliha Toprak, who devoted her entire life to serving the French who live in the Izmir region. You served as the Honorary Consul of France in Izmir for a whole 21 years. This, while quite a rare performance in the French consular record, is truly a demonstration of your commitment and energy to represent our country and to support our citizens living in Izmir or traveling here". Emphasizing that Zeliha Toprak is an important business partner for them, the Ambassador continued, "Indeed, this is not at all a farewell to you; quite the contrary, we are celebrating the beginning of a new collaboration era"
Magro continued to express that with his new post as the Honorary Consul of France in Izmir, Bernard Arkas has now become a part of a deeply rooted family. "As we observed in the 2010 restoration of the historic French Consulate building, where the Arkas Art Center is also located, you are continuing a family tradition of the French community which has lived in Izmir since the 18th century. There is no more plausible outcome than what we have here and now, that is, the traditions of France and those of your family merging in a formal and institutionalized dimension. I would like to take this opportunity to express our gratitude to you and your father Lucien Arkas, who honored us by joining us today, for your endeavors." Then, the Ambassador presented Bernard Arkas with an exequatur (document of consent) and concluded his speech, "On behalf of myself and the Consul General in Istanbul, I wish you success in your new mission for France".
Arkas Holding Vice President Bernard Arkas said, "My family has been living in Izmir for 9 generations. As a French and Turkish citizen, I have encountered countless times the benefits of having been raised with the synthesis of both Turkish and French cultures in many international settings and in business life. Today, it is an honor for me to carry a title that will allow me to provide services to the French."
Expressing his happiness with French Ambassador Mr. Hervé Magro and the French government for the trust they have in him, Bernard Arkas stated that Lucien Arkas is behind their strong ties with France as a family, and continued, "I have learned a lot from the inspiration I received from his guidance both in my business and private lives. Mastering the French culture and striving to keep it alive, I learned from him. In fact, I am keeping up a tradition which started with my father and has continued to this day. Over the 32 years we worked together, we learned how to be a team. I carry with me the confidence and comfort of welcoming this new era as a team".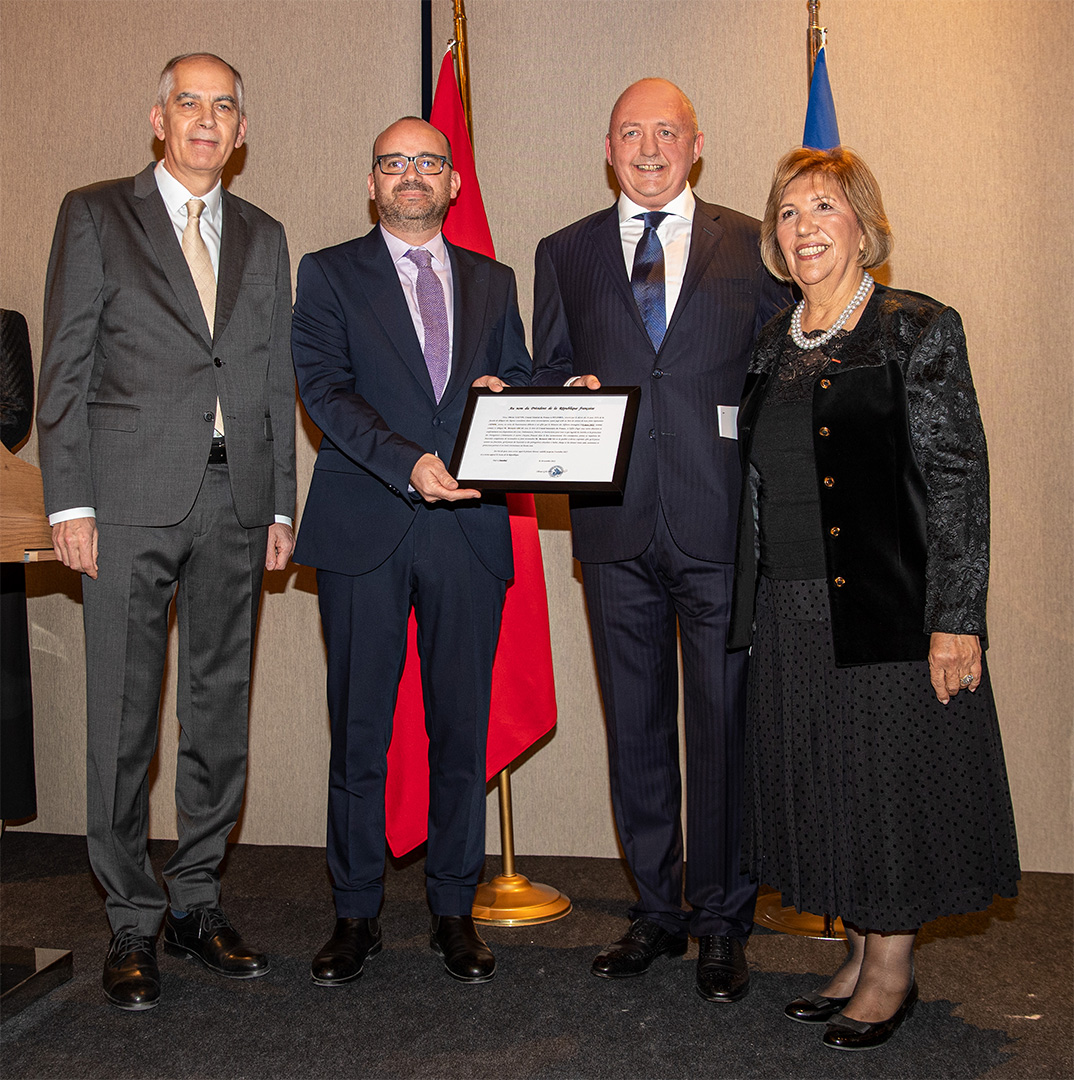 Bernard Arkas continued, presenting gratitude to Zeliha Toprak who held the post of Honorary Consulate of France in Izmir for 22 years before him, "To us, Zeliha Toprak is a very valuable friend and is akin to a family member. If she hadn't encouraged me, I wouldn't have the courage to aspire to this mission. I know that through this mission, she will always support me with her presence, stand by my side and help me continue this mission as our honorary consul at heart".
Arkas ended his speech by saying: "We strive to maintain this tradition by supporting arts, sports, education and environmental projects. During my service, I will work hard to strengthen the bilateral relations and to further reinforce the influence of French culture that already exists in Izmir."
Zeliha Toprak, Former Honorary Consul of France in Izmir, said, "As per the rules, it is time for me to say goodbye, but all of my energy will continue to be at your service. I consider it a blessing to have been the bridge of these two magnificent cultures for so many years. I would like to extend my gratitude to all the good people who have accompanied me on this wonderful 43-year journey with their friendship and made my life beautiful. A very special thank you to our north star, my family, my dear brother Lucien Arkas. You have always been with us, we are grateful. I wish success to my successor as Honorary Consul, dear Bernard Arkas. Please do not forget that I will always stand with you as long as I am in good health. You fit this post very well, wishing you all the best and success in your new journey."