Exporting to more than 30 countries with its refinery in Bornova, Izmir and its modern continuous pressing facility in Ayvalik, Kristal Oil is rapidly progressing towards its goal of becoming a global Turkish olive oil brand. Continuing its investments in production and storage lines and creating a difference in product and service quality with new generation technologies, Kristal Oil increased its production capacity in Ayvalik facility by 2.5 times year-on-year. The storage volume in the facility was also doubled.
Having operated for 84 years in the Turkish olive oil sector, Kristal Oil successfully represents Turkish olive oil with awarded products at national and international scale, while furthering its capacity with new investments. As the first olive oil company in Türkiye that started producing branded olive oil and that has become the first olive oil company to export branded packaged olive oil, Kristal Oil increased the daily production capacity of its modern pressing facility in Ayvalik by 150 percent, that is, 2.5 times in total compared to last year. With this increase, the daily olive processing amount at the facility reached 200 tons total on two separate lines, with one line at 120 tons and the other at 80 tons. Kristal Oil also increased its storage capacity. The company increased its oil storage capacity by 70 percent and raw material storage capacity by 60 percent at its Ayvalik facility. Thus, Kristal Oil also doubled its storage limits at Ayvalik facility compared to last year. The process line of the facility, where environmentally friendly production is realized in two phases, consists of washing and sorting, kneading, decantation, and liquid phase separation processes.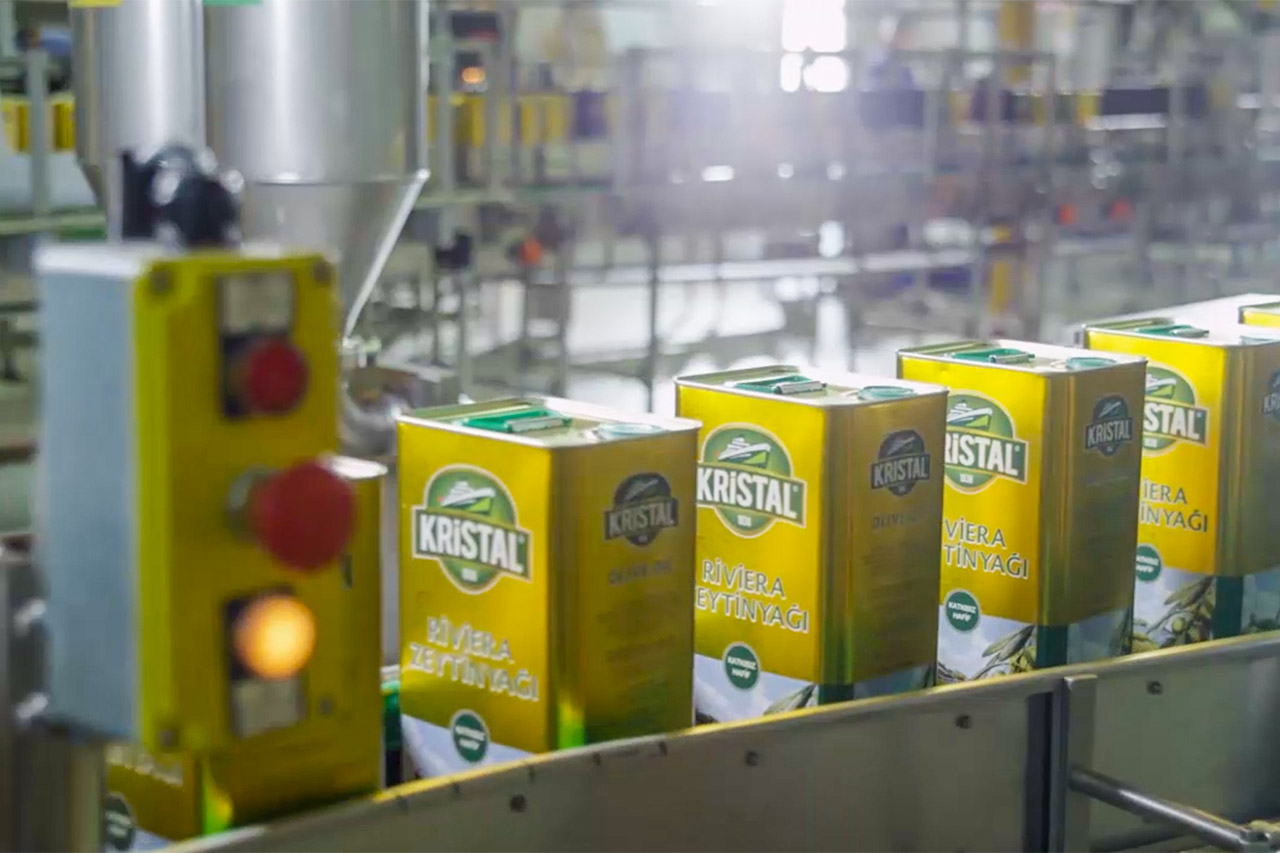 Refined Production at Bornova Facility
At Kristal Oil's refinery facility in Bornova, Izmir, olive oils in the raw olive oil group are transformed into refined olive oil with water vapor technology without any chemical treatment. After being blended with certain amounts of North Aegean extra virgin olive oil to obtain riviera olive oil, it is transported to the filling facility with modern technologies and packaged for sale.
Having increased its investments and production capacity following its partnership with Arkas Holding in 2007, Kristal Oil continues its European operations through its facilities in Bornova and Ayvalik, as well as through Aceites Kristal, a company established in Valencia, Spain. Having commenced its operations in Izmir in 1938 as an initiative by Anthony Micaleff as Türkiye's first olive oil brand, Kristal Oil was the first enterprise to produce Riviera olive oil and release it in a packaged form. With 84 years of experience, the company also serves its consumers through its online store www.kristalyaglari.com.