Containers, which are specially produced for the safe and robust delivery of cargo to designated points in transport organizations with international standards, are in the form of steel boxes and can be used many times.
The emergence of containers dates back to approximately the 18th century. When they were first produced, small shipping containers, usually of metal-wood construction, were not intermodal in structure. Each transportation company used different types of containers, which naturally caused major problems in cargo transportation. In the second half of the twentieth century, important developments began to take place regarding shipping containers. During World War II, the United States Army began experimenting with container transportation. These trials were also a milestone in container transportation: In 1948, containers full of materials were standardized to a size that could be loaded directly from a ship onto a truck and vice versa. In this way, the containers could be easily stacked, eliminating logistics problems therebefore. This container, which the United States Army called "The Transporter", measured 8′ 6″ long, 6′ 3″ wide and 6'10" high. During the Korean War, which lasted between 1950 to 1953, this container significantly expedited supplies to the army and troops and ensured that supplies arrived safely at their designated points. Later, the United States Army continued its R&D efforts to further improve the Transporters. These efforts paid off and "CONEX Box" (Container Express) containers were introduced. In the 1967 Vietnam War, the US Army used more than two hundred thousand Conexes.
The containers, which attracted the attention of many shipping companies around the world with their success in logistics in both the Korean and Vietnam wars, were first used in civilian life by Malcom McLean, owner of the American entrepreneur McLean Trucking Company. In 1955, McLean began working with mechanical engineer and inventor Keith Tantlinger to develop a modern intermodal container and succeeded in producing a container 8 feet (2.44 m) high, 8 feet (2.44 m) wide and 10 feet (3.05 m) long, made of 0.098″ (0.24892 cm) thick corrugated steel, with a twist-lock mechanism at the four top corners for easy crane securing and lifting. After the 1957 inaugural voyage, Tantlinger managed to convince McLean to let him design the container for free. Following this decision, the transportation world enjoyed a second major development. The containers produced since then are in international standards. After differing opinions, the demands of American and European rail/road carriers were absolutized as ISO 668 in 1968. The sizes still in use today are produced according to this agreement.
There are many types of containers that vary according to the load carried; a container is in the form of a steel box which can be reused many times. A container can be transported by road, sea and rail without unloading the cargo inside. Containers with different types of dimensions determined in the ISO 6346 standards are used for different purposes around the world. It is estimated that there are 17 million containers in the world today.  Containers, which are among the most important milestones in the history of international transportation, hold almost the most important share in the development of international trade. Today, 90 percent of the materials transported in the world are transported in containers.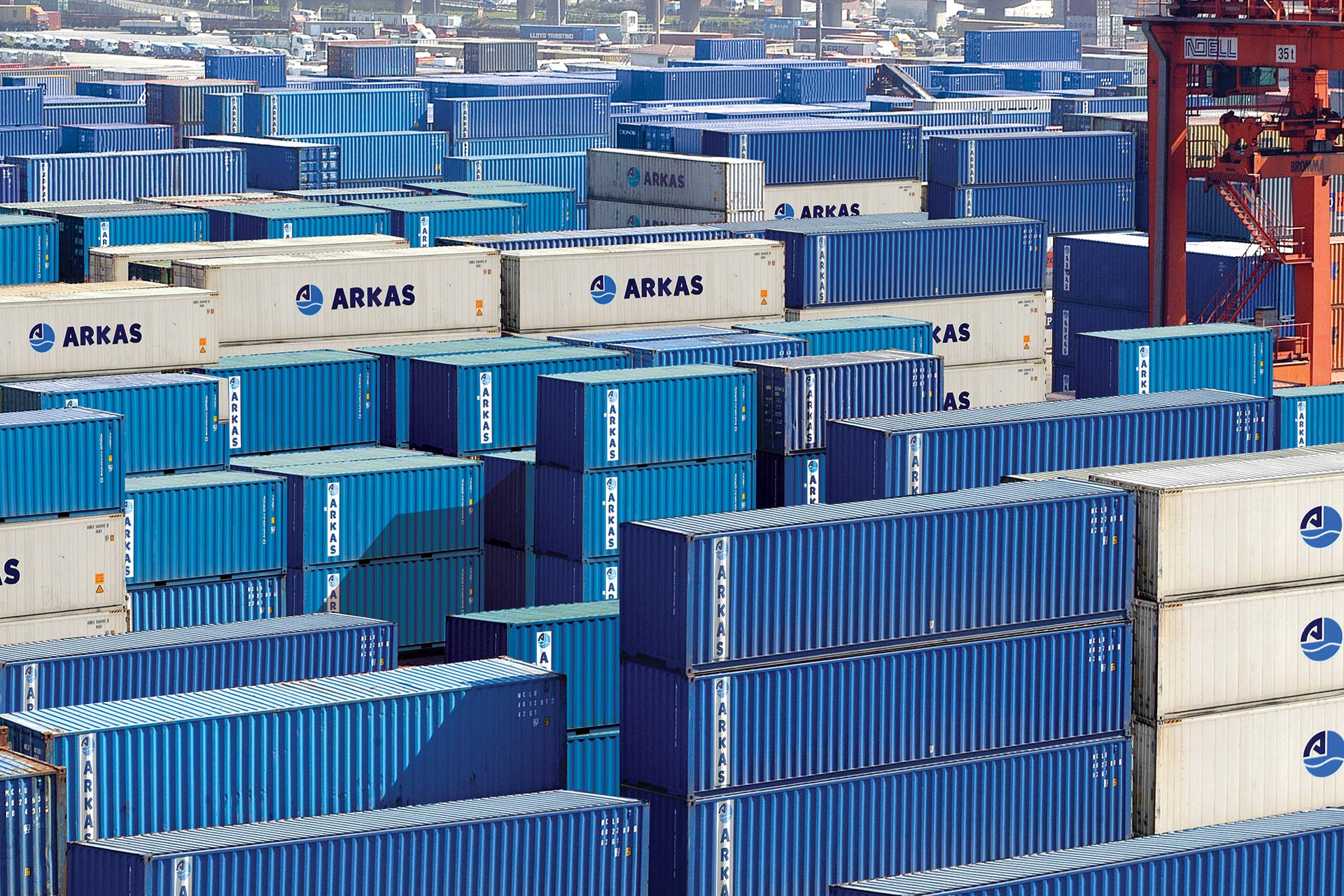 Arkas is the pioneer of container transportation in Türkiye. Today, Arkas has the largest container ship fleet in Türkiye with 47 vessels and its container transportation journey dates back to 1978: Dr. Joachim Wassman, Managing Director of Deutsche Seerederei Rostock, informed his agents that container transportation would be introduced. Lucien Arkas, Chairman of Arkas Holding, was in charge of convincing Turkish exporters and importers. As a result of the negotiations with the leading brands of their sectors such as Canakkale Seramik, Altinyildiz, Ulker, Sisecam, container transportation started in Türkiye. In 1978, the first container shipments are made from Izmir port to Antwerp and Hamburg with DSR Lines' "BURG" ship.
Click here to read the historical development of Arkas Holding over a century.