Producing wine with sustainable agricultural policies in the Aegean lands that have been the cradle of viticulture and winemaking for centuries, Lucien Arkas Vineyards published their sustainability communication report for 2021. As an Arkas Holding group company, Lucien Arkas Vineyards reduced their water consumption by 59 percent, and carbon footprint by 45 percent between 2019 and 2021. The company's Solar Energy System investment provides 54 percent of the electricity used in production with a renewable energy system.
Policies developed for a sustainable world require efficient resource utilization in many areas from agriculture to energy, from industry to other production areas, and require adoption of environmentally friendly approaches. Private sector investments are also gaining momentum in this area. As an Arkas Holding group company, Lucien Arkas Vineyards realized investments to reduce their operational greenhouse gas emissions and now acquires more than half of their energy requirement from renewable energy systems. Having adopted a sustainable production management due to limited natural resources, the company published its sustainability communication report for 2021.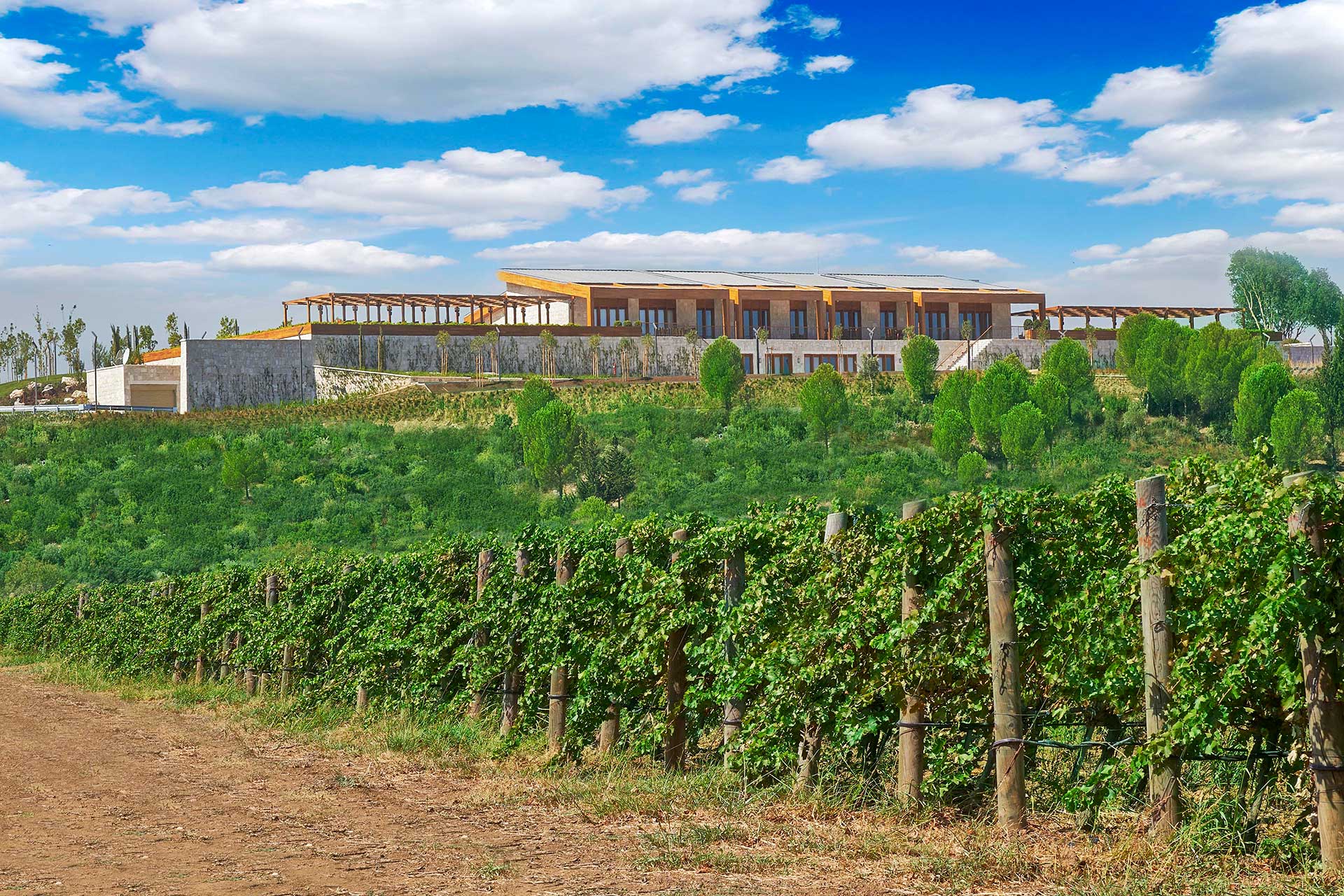 54% of Electricity Acquired from Clean Energy
The report notes that Lucien Arkas Vineyards is oriented towards minimum resource utilization in energy with all the remedial operations put into practice. The company, which has made new investments for this purpose, utilizes its Solar Energy System, which is renewable energy, to acquire as much as 54 percent of the electricity used in production.
 Achieved 45 Percent Reduction in Carbon Footprint
Carbon Footprint is an indicator of direct or indirect environmental damage caused by human activities represented by the amount of greenhouse gases released into nature, measured in units of carbon dioxide. Industrial processes which cause indirect emissions emit more carbon.  All processes, from the production of a product, its transportation and to its disposal, are parts of the carbon footprint. The sustainability communication report states that the carbon footprint left by Lucien Arkas Vineyards on nature for the production of one unit of product has been reduced by 45% since 2019.
 Increased Organic Agriculture Area by 19 Percent
The holistic approach inherent to organic agriculture enables healthy functioning of ecological cycles. This fundamental approach allows the soil to be nourished with natural input, free of harmful input which cause gradual structural disorders in the plant and soil structure, and to produce healthy and productive agricultural products with holistic nutrition of the soil. Pollution caused by uninformed agricultural activities can lead to disruption of the natural balance, environmental pollution and life-threatening hazards in the food chain. Therefore, preservation of biodiversity is important both for organic agriculture to succeed and for maintaining the balance of the ecosystem. The report states that Lucien Arkas Vineyards continues to support organic production as part of their sustainable agriculture efforts, and that the organic agriculture area has grown by 19 percent in the period from 2019 to the present.
 Improving Waste Management System
At Lucien Arkas Vineyards, where the adoption of Zero Waste Management System in all areas of activity is acknowledged by relevant institutions, it is stated that the amount of glass waste generated from the process and recycled has been reduced by 9.5 percent and the amount of paper waste by 20 percent since 2017. It is emphasized that the amount of plastic waste from the process is reduced. The report points out that Lucien Arkas Vineyards treats all process and domestic wastewater in their treatment system.
Customer Satisfaction Priority
Lucien Arkas Vineyards, which holds BRCGC Food Safety System, ISO 22000:2018 Food Safety Management System and ISO 9001:2015 Quality Management System certificates, adopts a "Quality and Food Safety" management system which prioritizes customer satisfaction and in this direction, ensures sustainable customer satisfaction. The sustainability report indicates that Lucien Arkas Vineyards' product and sales performance has achieved a satisfaction rating of over 90%. At the company, dedicated units handle customer complaints, as well as coordinate necessary actions to be taken thereby.