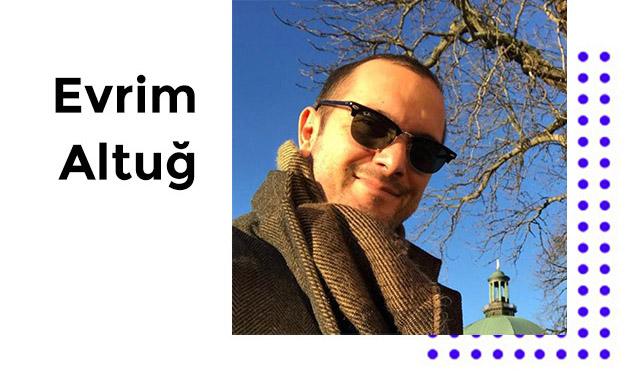 Lately, it is as though almost all of us are doomed to survive with great difficulty in space and time, stuck between lives and efforts. We cope with this mostly via communication on digital channels. Acquiring positive, therapeutic resources, we make sure to remind ourselves that we are aware of being alive and we find ourselves endeavoring more, than before, to engage particularly in literature, cinema, music and visual arts. With the world of culture and arts also impacted by the "new normal" circumstances in the social climate of the "pandemic," I'd like to take a look at the mirror from both sides and ask: Does art have leisure?
To answer this question, we must begin with art history. In some aspects, it looks as though art has found the biggest production and consumption opportunities in places that always have "leisure." We must especially emphasize that leisure is a luxury that an individual deserves with the money they have worked to make, by spending time by themselves and in nature, and it brings along tendencies observed in "tourists," "travelers" or "idle" people.
Needless to say, many narratives are used in art, ranging from decorative-themed to spiritual, celebratory or storytelling, legendary or political or abstract. Especially when we look at the map of Europe during the industrial revolution in the 19th century, many artworks from the Impressionist movement, for instance, depict individuals or social groups in their many moods, revealing their relationship with "free time."  It looks as though artists and art enthusiasts have found art in those most valuable moments, respites of freedom, which the culture industry refers to as "leisure." For instance, works by Claude Monet or Pierre-Auguste Renoir zero in on France in the 19th century, displaying the "nature" of these people, drawing various portraits of "leisure" in a sense. Just like impressionists, many post-impressionist artists, including Van Gogh, offer us original materials bearing witness to a variety of intimate moments.
For instance, Luncheon of the Boating Party (1), a classical impressionist painting produced by Pierre-August Renoir between 1880 and 1881,promises a frank glimpse into private and close relationships in middle-class bohemian French life at the time. Of course, viewed from the world of 2020, we are ironically first drawn to and envy the intimacy and comfort among these happy people, which looks enviably beautiful. The painting emanates sincerity and joy not unlike memorable, throwback group photos we are now used to sharing on social media. Identities of almost everyone depicted in this painting from Philips Collection have been revealed. The young woman on the front right side of the painting is Angele, Renoir's favorite model. On the chair in the front is Gustave Caillebotte, Renoir's fellow painter and friend. He sits across the table, looking at Renoir's future wife Aline Chairgot who is petting a terrier. It looks like the painting also includes Alphonso Fournaise Jr., son of the restaurant where the luncheon is held, an ex-officer Baron Raoul Barbier, actress Ellen Andrée; Charles Ephrussi, banker and editor of the Gazette des Beaux-Arts; poet and critic Jules Laforgue; member of the Ministry of Interior Eugène Pierre Lestringuez; Jeanne Samary, an actress in the French Theater and artist Paul Lhote.
Another depiction of "leisure" in art is a painting in the Sorolla Museum in Madrid, showing two upperclass women strolling barefoot on the seaside. (2) This beautiful painting by Joaquin Sorolla was made in summer in 1909 on the beach of Valencia, right after the great accomplishment of the artist in the USA. In the painting, Sorolla's wife and Maria, his daughter, stroll on wet sand on the shore amid blue and turquoise applied with long brush strokes.  The piece draws a lot of attention not only due to its photographic details but with the parasols in hand depicting bourgeois leisure behavior.
Similarly, John Singer Sargent's painting (3) in Tate Britain, London, welcomes us into a peaceful atmosphere with two kiddies immersed in nature. With what actually feels like a fragrant title 'Carnation, Lily, Lily, Rose', this painting depicts a village in Cotswolds, Broadway, where Sargent stayed in 1885. In the painting, two kids Dolly and Polly Bernard are lighting Japanese lanterns. They are the children of Frederick Bernard, Sargent's illustrator friend. It is known that Sargent made this painting outdoors in order to capture the right moment with the right light. Because it took him a long time to complete the painting, the flowers he represented began to wither in the fall and he resorted to painting flowers in pots, for which he is known. The title of the painting comes from a popular song at the time, "The Wreath."
Edouard Manet gives another classic Impressionistic interpretation of how artists are aware of the freedom promised by leisure, and how they document their view of the world and humanity. The painting dated 1859 from the Glyptoteket collection in the Danish capital Copenhagen (4), shows a young, good looking man who's heavy drinker. This work of art by Manet communicates all the mystery, appeal and sense of curiosity associated with the attires, moods and attitudes of the time. It becomes attractive because the painter chooses to portray a drunk recluse in poorly lit space, a rarity for a technique traditionally applied to members of the elite and nobility.  A gripping aspect of the painting is that the hat and the shawl the man wears leave us in doubt as to what class the figure belongs to.
A gift from the Royal Swedish Academy of Fine Arts to Swedish National Museum, this interesting painting invites viewers to a midsummer dance in a village. Painted by Anders Zorn in 1897 (5), this work is explained in the artist's autobiographical notes as follows: "This painting was made in June and July after sunset. I am very happy that I have created it. It's added a new level of charm to Morkarbly where the painting is set. This place is bathed in red every midsummer and I believe it's my duty to depict it. Around a traditional fire to celebrate midsummer, the young members of the village dance arm in arm to the music until the crack of dawn and this is what my painting depicts." Zorn prefers to focus his painting not on the midsummer fire but to the light in dusk, people's passion and light.
In a nutshell, art truly embraces the flavour and the meaning of leisure. With the many subjects and places it depicts, art invites us into unique moments with each work.  Take Frederick Carl Frieseke's "The Garden Parasol" (6) dated 1910 from the North Carolina Museum of Art in the USA, "Boulevard Montmartre, morning, cloudy weather" (7) by Camille Pisarro dated 1897 from the Melbourne collection of the National Gallery of Victoria in Australia, "The Dinner at the Ball" (8) by Adolph Menzel dated 1878 from the collection of the National Gallery in Berlin, "Blue Interior" dated 1883 by Harriet Backer from the National Museum of Art, Architecture and Design in the Norwegian capital Oslo (9) and Gustave Caillebotte's "The Orange Trees" (10) from the Museum of Fine Arts in Houston, USA. It looks like they will always grant us the experience of that privacy and passion of freedom.  Which painting you will be in on your holiday depends on your taste!