Addressing the students at the online graduation ceremony of Dokuz Eylül University (DEÜ), Maritime Faculty, Arkas Holding's Chairman of the Board of Directors, Lucien Arkas, stated that more importance has recently been placed upon adaptation and innovation. He emphasized that success in the future depends on the development of personal talents such as adaptation, technical skills, creativity and critical thinking, and explained the cooperation with DEÜ.
The graduation ceremony of 2019-2020 Academic Year for DEÜ Maritime Faculty took place online. 200 students graduated from four departments at the faculty. As an honorary guest at the ceremony, Arkas Holding's Chairman of the Board of Directors, Lucien Arkas shared important remarks with students who completed part of their academic year with remote education, and partially with face-to-face sessions. Mr. Arkas delivered the following remarks: "Today, we are having an online meeting and ceremony, while you had completely different dreams and plans about your graduation ceremony. Today, I'm expected to share my suggestions about your future, but life itself gives you the most important message in your graduation year. Its message is that your strongest muscle is 'adaptation', under any circumstances, and the ability to create and apply new systems. This is because the game has changed; a new world order is being established. This applies to each and every industry, and everywhere in the world, without any exceptions." He continued: I would like to repeat a Seneca quote that I frequently share with our managers: 'Success in life isn't about waiting for the storms to pass. It's about learning how to dance in the rain.'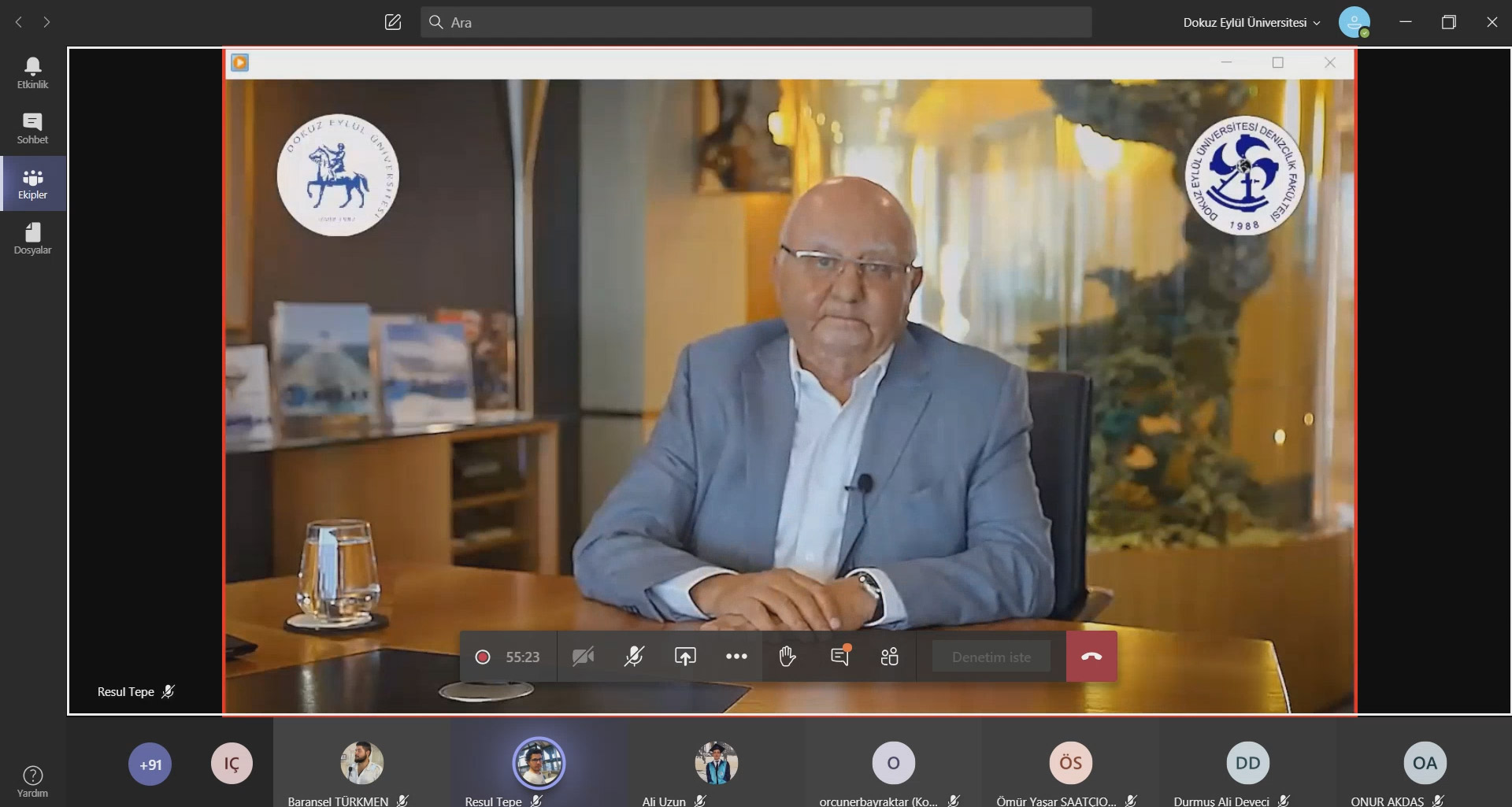 To Be Successful…
Arkas Holding's Chairman of the Board of Directors, Lucien Arkas talked about the competencies required for success in the new world order. In addition to adaptation, he noted the following skills: tech-savviness, creativity and innovation, critical thinking, data literacy, coding and software skills, emotional intelligence and leadership.
Private Sector-Academia Cooperation
Mr. Arkas congratulated the academic staff and everyone else that contributed to the students' graduation, and noted the cooperation in the field of educating, stating that DEÜ Maritime Faculty is Turkey's one and only institution which incorporates all of the maritime and logistics programs.
He said: "We strove to support particularly practical training as part of our cooperation. This is because it is critical to reinforce theoretical education with a quality practical education in maritime. The Naval Architecture and Marine Engineering department opened with the support of Arkas. Additionally, in 2007, we opened the Practice Center equipped with main marine engines and machinery in order to enhance your practical experience. Over 10-15 years ago, almost no engineer used to be able to graduate from Maritime Education, and this was an open wound in the industry. To this end, nearly 50 students successfully graduated as part of the orientation trainings we offered from 2008 to 2010 for students seeking jobs with a degree from other mechanic engineering faculties. Currently, 24 of those graduates successfully sustain a job, with 10 of them serving as principal engineers."
A "first" in simulation-based learning in the world
Lucien Arkas stated that they achieved a first in the world and launched "Emergency Training" in a simulator for Master Mariners in association with Dokuz Eylül University, Turkish Airlines and Arkas Holding. He noted that Dokuz Eylül University Became Turkey's best university for simulation-based learning, while Arkas' fleet became the company with the least accidents in Europe, quoting the insurance companies. Mr. Arkas stated that cooperations would continue for internship and job opportunities.