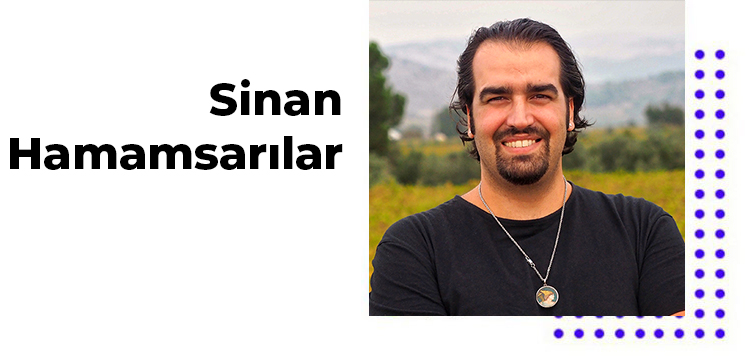 New Year's nights are when people want to be happy and have fun, start a clean slate over the past and set sail for new dreams, despite all the dark days they might have had. The best moments of that day are those at the table where everyone shares the same food. So with very little to go in 2021, I wanted to prepare a list of shopping stops which could be very useful for you when kicking off 2022, and later on. The flavours at the addresses I recommend will bring joy to your palate.
Let's start with the delicatessen to enrich the tables of the night:
Cibalikapı balıkçısı: Nobody does appetizers better than Cibalikapı Balıkçısı, which is one of the most special restaurants in İstanbul. From Saraylı to Girit ezme, from sea bass bites with sun-dried tomatoes to Takuhi Tovmasyan's recipe toppings, this is one of the two addresses I would recommend in a heartbeat for a New Year's appetizer shopping.
Tuana Şarküteri, Kurtuluş: They make the best eggplant salad, tarama and toppings! But they make a wrap so good, you'll find yourself eating 30 bites in no time.
Another two successful appetizer alternatives are Gourmet Garage and Nezih Market.
Let's not forget the seafood charcuteries, which are very popular these days…
Tunç Balık, Beyoğlu: Tunç Balık do salmon which they smoke with their special formula that will literally prohibit you from buying bonitos anywhere else. They also do very good bonito, again smoked, along with enthusiast-magnet likorinoz and a very special flavour of toric lakerda. They also offer home deliveries to all addresses in Turkey. Don't skip the tarama and boiled shrimp either.
When you buy seafood charcuterie, pickles will go well with it. Here are suggestions for where you can buy pickles in İstanbul:
Petek Turşu, Beyoğlu: Petek Turşu is one of your best options for sour cherry, plum, okra and almond pickles in İstanbul. Among the pickles of the production plant in Bursa Gedelek, Stick cucumber sticks are among of my favourites.
Asri Turşucu, Cihangir
Özcanlar Turşu, Kadıköy
Soydan Turşu, Beşiktaş
Tarihi Pelit Turşu, Kurtuluş
Hacı Zafer Turşu, Alibeyköy: The pickle maker who pickles everything. While you're at it, don't miss the syrup-soaked pastry next door!
We also need to prepare a cheese plate on the table…
Antre Gourmet: Cheese flavours meticulously picked from tens of Anatolian producers, olive oil brimming with honest work, rare seasonal burned yogurt, and many more… Antre Gourmet is among the very rare shops in İstanbul which work with high-quality materials, that is, the primary requirement of quality food and refined cuisine. Also, Antre Gourmet's cheese books can be a very special New Year's gift for enthusiasts.
Barbaros Süt Ürünleri, Fatih: One of your main stops for yogurt and cream
Lale Fidan Süt Ürünleri, Levent: The only place I shop for buffalo cream in İstanbul!
For those looking for olive oil to pour over cheese and appetizers…
Kürşat Tarım, Nişantaşı: Kürşat family, who have been in the olive business for three generations, gathers olives from their own olive gardens and press them in their own facilities and the olive oil they make, it will change your whole perception of olive oil. Meanwhile, Kürşat yağları were also the subject of Business Insider's mini-documentary in 2018.
For meat charcuterie products:
Nebyan Doğal: Nebyan Doğal, one of the best online butchers in İstanbul, sources their meat from free-range lambs and cattle in the highlands of Samsun and Giresun. A trust relationship they have established with the shepherds, especially for the breeding of Karayaka Lamb species, means they can offer perhaps Turkey's most special lamb meat to their customers. Some even say that their lambs "have never set foot on concrete". Their stores in Çekmeköy, Kanyon and Kalamış also offer home deliveries.
Onur Et Galerisi
Pak Ciğer, Kadıköy
Senin Ciğerci, Beyoğlu: One of the rare high-quality offal shops in İstanbul, Senin Ciğerci is located at the end of the fish market, at the right side just before Cumhuriyet Pub. Their tandoori heads that come out at noon and don't see the evening? You feel like eating them right there, on the counter!
İdeal Salam (Kozmaoğlu)
Koşer İstanbul Kasabı, Ulus
Istanbul Butcher, Feneryolu
Cankurtaran Gıda
Ecevitler, Kadıköy
Eataly, Zincirlikuyu
Baharat
Ucuzcular Aktar, Eminönü
Ulaş Baharat, Kadıköy
Bakeries and patisserie shops, in case anyone fancies panettone or dessert for the evening…
For the love of Panettone; Beyaz Fırın, Kruvasan İstanbul, Padoka Bakery
İnci Pastanesi, Beyoğlu: Since there are still people who don't know that İnci Pastanesi closed their old shop and moved to their new address in Mis Street, let's announce it again: İnci Pastanesi is still in Beyoğlu, with its delicious profiterole! Their trademark is known to a few: they use the inner cream to make the outer chocolate sauce.
Üstün Palmiye, Kurtuluş: To have Easter buns for breakfast on the first morning of the new year, what a delight that would be!
Confectionery, Chocolate, Dessert, Ice Cream
Mabel, Karaköy
Ali Muhittin Hacı Bekir, Beyoğlu
Bebek Badem Ezmesi
İsmail Şafak Dondurma, Büyükçekmece
Damla Dondurma & Boza: Damla is a business which makes you understand that thick boza is something beyond a sourish and sugared corn or cereal drink. It is also the place where you can witness how great this boza can be, when it's hand-made by human experience, rather than mass-produced in the industry. Bon Appetit already for the enthusiast! Don't forget to stop by in the summer and try their ice cream!
Diyar, Feneryolu: Diyar is not really known in the European side, but to many who even took a small stroll in the Bağdat Street, and it is among the few special stops for baklava and burma kadayıf in the Anatolian side.
For Turkish coffee to seal the night:
Nuri Toplar, Eminönü