In recent years, Ukraine has started to use its geographic location as a tool for growth in transportation and logistics sectors and the country is thriving a definitive transformation in becoming a logistics hub in the region. With its infrastructure attributes such as sea and river ports, extensive railway network, road network, airports, infrastructure investments, public-private partnerships and concessions, Ukraine is committed to become a nodal-point for South – North and East – West cargo corridors.
The free trade agreements with CIS states, EFTA states and the ones recently signed with UK and Israel will be providing an increase in trade and cargo flows for Ukraine. The free trade agreement expected to be signed soon between Turkey and Ukraine will also provide enhancement of bilateral trade and growth in transportation between the countries.
Ukraine's need for modernization of transport infrastructure has long been in place. With the investment and privatization efforts of recent years in airports, marine, inland and river terminals, railway and road constructions, locomotives and rolling stocks, it has provided the country with needed leverage to become a Hub in the region.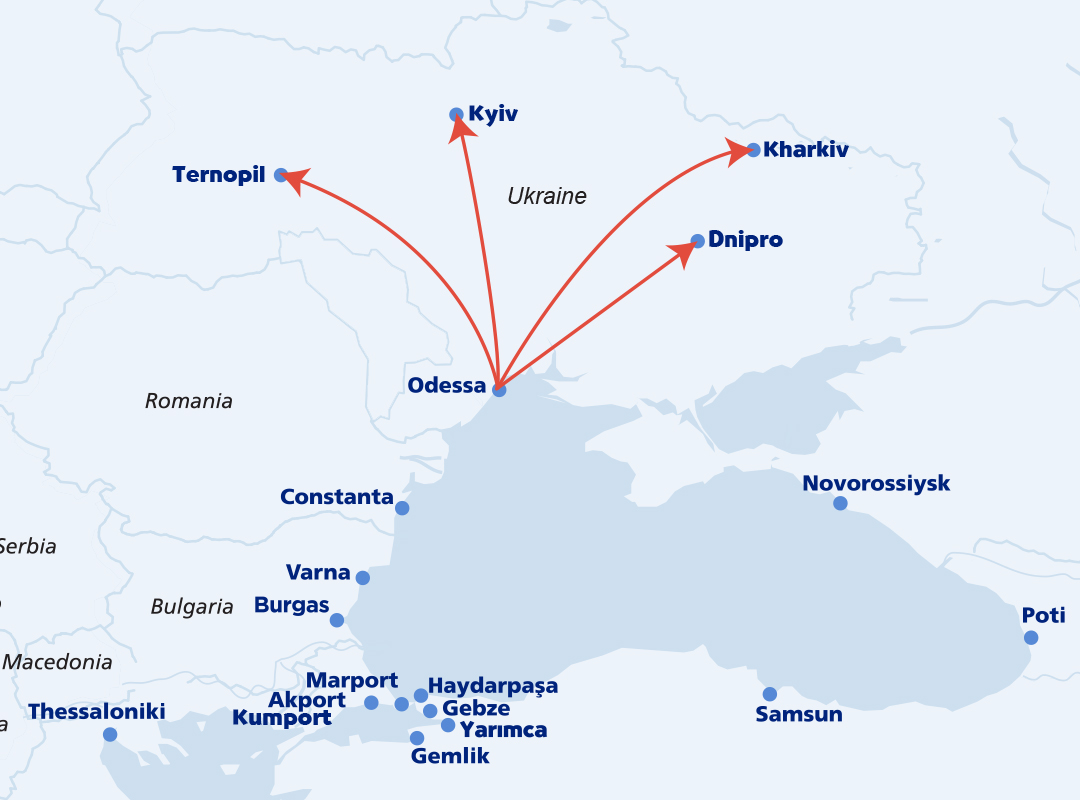 In particular, Ukrainian rail network is the 14th largest in the world, being the world's 6th largest rail passenger transporter and 7th largest cargo transporter in the world. The railway system is integrated with Belarus, Moldova, Poland, Romania, Slovakia, Hungary and the Russian Federation.
Recent developments in Ukraine's rail infrastructure sphere, create opportunities for multimodal container transportation, as well. The investments made by both public and the private sector players for block train and inland terminal services facilitate competitive container transportation solutions within country's borders. These developments also facilitate transit container carriages between Turkey and Poland together with Baltic States, as well as shipments between China and EU.
In line with all these developments, Arkas Line and Arkas Ukraine have started to serve their customers with weekly block-train service from / to Odessa. The new service of Arkas provides;
– regular weekly block train service from Odessa terminal with 24 hours railway transit time to inland container depots at Kharkiv, Dnipro, Kyiv and Ternopil.
– connection of sea carriage with inland transportation to railway terminals at Kharkiv, Dnipro, Kyiv and Ternopil
– possibility of custom clearance at inland container depots (at Kharkiv, Dnipro, Kyiv and Ternopil)
– last mile delivery by truck to final destinations located at these main consumer and industrial regions
The advantages of this offer are:
– better price alternatives comparing to trucking option
– no road limitations for heavy weight cargoes carried in 20' containers
– 7 days free storage at Odessa container terminal
– whole chain of transportation covered by a single liner B/L.
The quantity of inland container depots as well as service coverage is planned to be expanded in the nearest future to other Ukrainian and foreign areas.