The new compact and quiet home treadmill of Technogym offers you personalized running and walking workouts right from your tablet: Trainer-guided sessions, goal-oriented routines & virtual workouts.
Technogym MyRun has been designed to meet the needs of the whole family and to offer personalized running and walking programs suitable for any user, from beginners to fitness lovers and sports enthusiasts. After placing the tablet on the MyRun console, users can choose both their virtual running paths in nature or their favorite city as well as their favorite trainer from the contents library via the Tachnogym Live application. Furthermore, they have the chance to experience interesting sessions with the guidance of a trainer, exercise routines for athletic performances and personalized exercises. Thanks to Technogym's experience as being the official supplier for the Olympic Games for 37 years and of the world's leading prestigious sports clubs, Technogym MyRun offers a professional gym workout experience to enjoy at home. Now MyRun is also offering countless workouts with the Technogym Live application. Technogym Live App can be downloaded via Google Play and App Store.
Technogym Sessions: Better Outcomes with Your Favorite Trainer
If you look for a trainer, who guides and motivates you during your workout and knows how to make even a simple running exercise more entertaining, then you may try out Technogym Sessions on your Technogym Live App. Enabling to choose among the exercise programs designed according to personal goals, Technogym Session provides various advices and the required motivation to reach your goal by means of the selected trainer. When you click on the screen once, MyRun automatically adjusts the recommended speed and incline.
Technogym Routines: Guided workouts to Increase the Performance
Having explicit goals and a specific amount of time to reach them might be inspiring indeed. Technogym Routines is a combination of various exercises and actions, which challenges the users to do their best and have different intensity levels. MyRun automatically adjusts the intensity to improve the quality and efficiency of the run.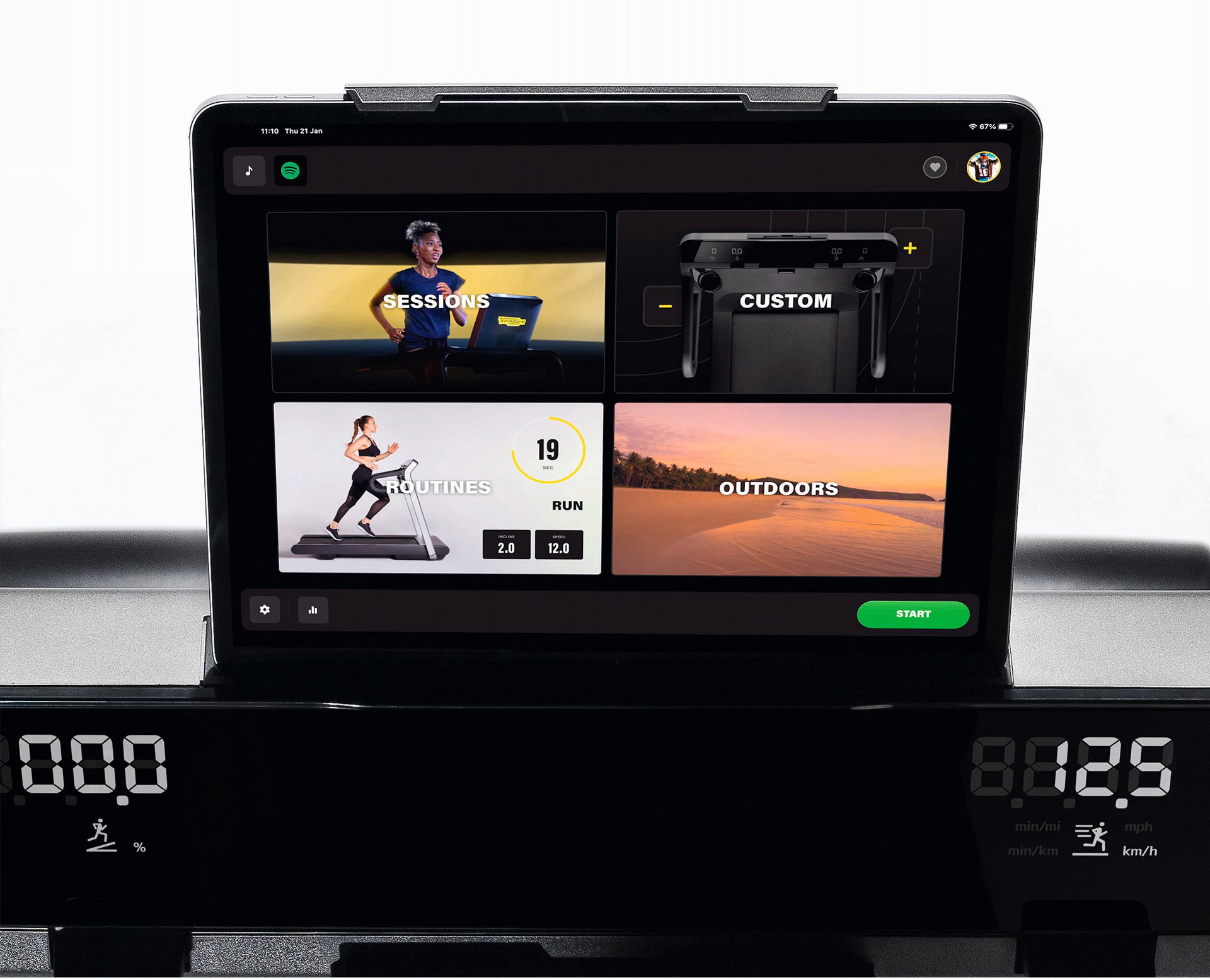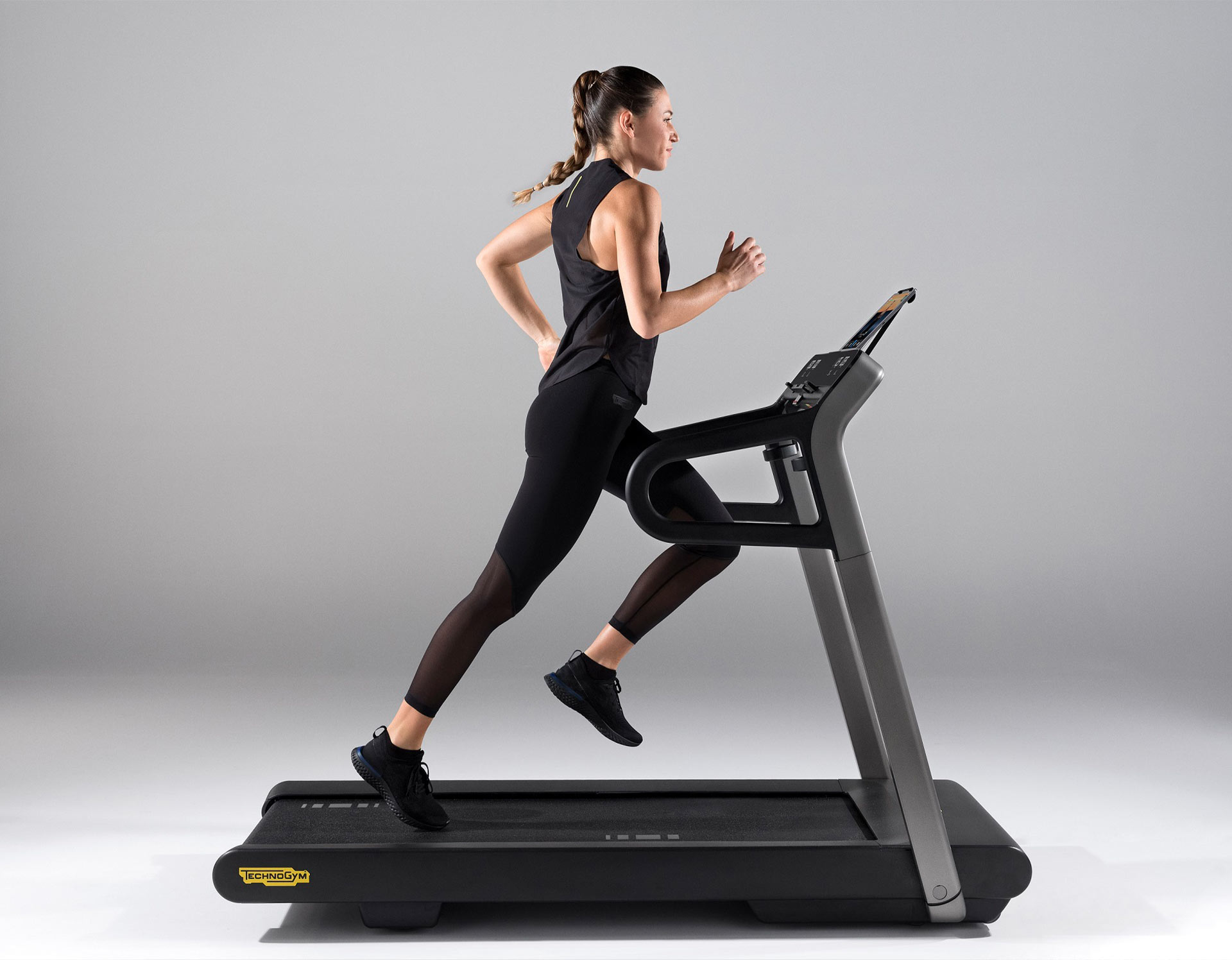 Get Into the Rhythm With Impressive Music Playlists
Good music can help enhance both motivation and consistency. So why not make running session more interesting? Technogym Live does not only give the opportunity to access your Spotify account via the workout interface, but also offer different music playlists designed specifically for the workout.
Train With Your Community and Join Virtual Challenges
Thanks to MyRun's compatibility with Zwift, Strava, Garmin and Rouvy, sports enthusiasts can compete or run with other users of their own community in the world's most popular tracks online.
Sustainability and Low Energy Consumption
MyRun recognizes when you step onto the treadmill and switches on automatically. It is the only treadmill in its category with low environmental impact due to its extremely reduced power consumption in standby mode.
MyRun's refined and compact design, as well as its perfect ratio between the working space and the total space it occupies, make it a perfect fit for home, notwithstanding the available space and interior design style, without compromising performance. The running surface adapts to the way you run and absorbs impact efficiently, shielding your joints at lower speeds and offering more elastic response during sprints. Technogym MyRun makes sure you always get the exercise intensity you need to reach and follow your goals with a variable incline from 0 to 12%, a maximum speed of 20 km/h and by keeping track of your biometric data such as your heart rate, cadence and step length. Thanks to its quick start button and control switches that allow you to adjust the speed and incline while being in motion, you can easily use MyRun even without a tablet.