In collaboration between Izmir Kavram Vocational High School and Arkas Maritime Fleet Management aimed at educational support, the Cookery Program students were given marine cookery education. In the event, where the ideal highlight was to improve marine cookery in Turkey, students of the Cookery Program learned the intricacies of marine cookery, and the basics of ship galleys.
Organized in line with pandemic rules of hygiene and physical distance, the education continued for half a day and took place in the Kitchen Workshop of Izmir Kavram Vocational High School. Captain Sedar Ozozan and marine cook Erdogan Baytekin from Arkas Fleet Ship Management participated in the organization. The experienced captain Sedat Ozozan provided valuable information regarding marine cookery, while Erdogan Baytekin cooked together with the students.
Also present in the organization, Izmir Kavram Vocational High School Director, Prof Dr. Derman Kucukaltan recorded, "Marine cookery is an untapped area in Turkey and it needs to be improved. Our purpose with this activity is to provide students with technical information which they can utilize, should they get employment in the marine sector in future. The Cookery Program in Izmir Kavram Vocational High School is the only program of its kind to have been authorized by the Council of Higher Education (YOK) and accredited by TURAK. For this reason we intend to bring this program up to a more functional level. We want to use the means provided by this accreditation to create more value".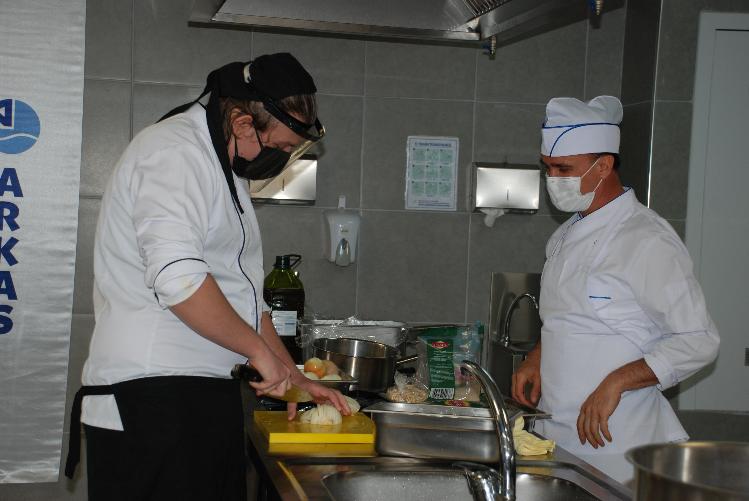 High Quality and Good Taste in Meals Have Positive Impact on Crew Motivation
Kaptan Sedat Ozozan continued "We would like to thank Izmir Kavram Vocational High School for their appreciation of and interest on this subject. The only point of reference for new cooks on ships used to be their letters of recommendation, which they received from their previous workplaces. Other than these letters, we would have no way to gauge a person's competence. This education changes that. Cooking on land and cooking on ships are vastly different to one another. A cook working on land may have gained expertise on how to prepare either hot or cold food, or on how to make dessert, but a marine cook has to know how to make everything. A ship is a sailing factory. A ship works 24/7 and the only place and time of socialization for a ship's crew are the dining hall and meal times. Food with low quality and bad taste will inevitably impact crew motivation. Therefore marine cooking is critically important".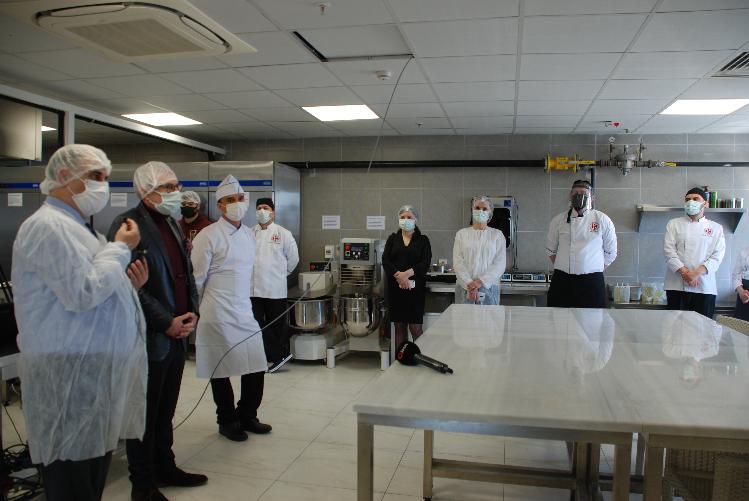 Ozozan continued "On land, you can access any food you wish, at any time. But on a ship, it's not possible. You have to plan in such a way that you can make the best use of your food stock. Say when you need curly lettuce, you can normally access that in abundance, but on a ship, you can't. Hence a ship's food program must be very carefully prepared. Especially fresh food packets can only be ordered every 20-45 days or even two months. Sometimes we arrive at such ports where we cannot purchase any food due to hygiene considerations. Hence, cookery and food planning in ships are crucially important".
After the speeches, marine cook Erdogan Baytekin entered the kitchen with the Cookery Program students, where Baytekin passed knowledge regarding marine cooking and cooked meals with the students.
It was also reported that education collaborations between Izmir Kavram Vocational High School and Arkas Maritime Fleet Management will continue in future.