For the second time, Lucien Arkas, Chairman of the Board of Arkas Holding, has been awarded the Order of Merit by the Italian Republic for his contributions in Turkish-Italian relations and the services he provided. Having been awarded as the Knight of the Order of Merit of the Italian Republic (Cavaliere Ordine al Merito della Repubblica Italiana) in 2007, which is the highest level honorary award granted to a very exclusive group of people, Lucien Arkas was after 14 years honored with Ufficiale dell'Ordine al Merito della Repubblica Italiana, an order of merit granted for Officer grade, which is higher than a Knight.
Valerio Giorgio, Consul of Italy in Izmir, and his wife Michelle Moubarak; Lucien Arkas, Chairman of the Board of Arkas Holding, his fiancée Merve Sakallı and his children; Bernard Arkas and Funda Arkas, Diane Arkas Göçmez and Onur Göçmez, Claire Arkas and Denis Filidis, Gisele Arkas, as well as Zeliha Toprak, the Honorary French Consul in İzmir, and close family friends were among the participants of the ceremony, which was held with the participation of a limited number of family members and friends by complying with pandemic rules.
"Today, I am deeply honored to present the Order of Merit of the Italian Republic for Officer grade, granted by President Sergio Mattarella, to Cavaliere Lucien Arkas", said the Consul of Italy in İzmir while presenting the Order of Merit.
Valerio Giorgio continued his speech by reading the President's letter and said: "The honor to receive an Order of Merit at the Officer grade, a higher grade than a Knight, after more than 10 years, is also a sign of Cavalier Arkas' exceptional personality, who has achieved many successes. Many of you may not know this, but reaching this high order is a rare event.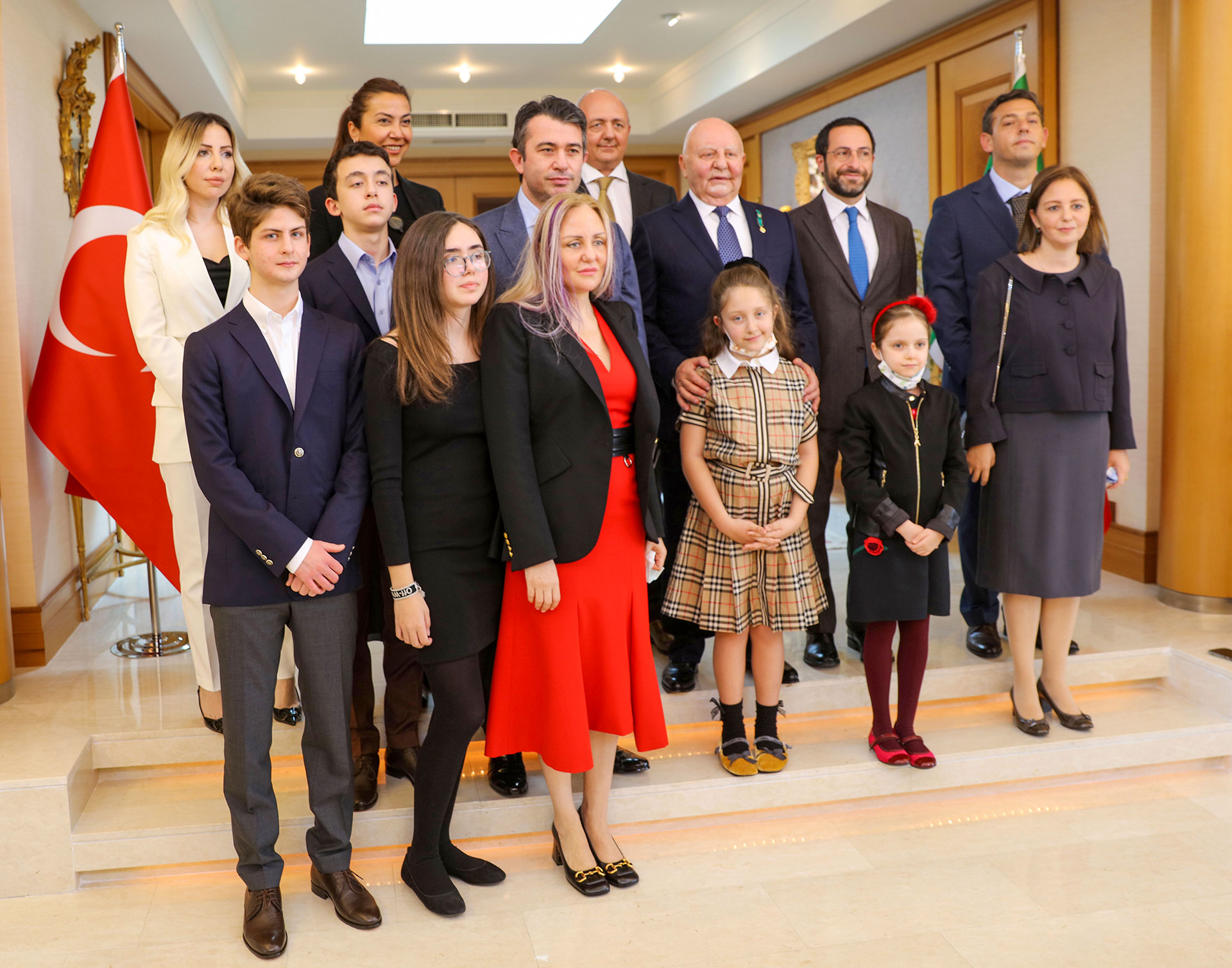 The President of Italy presents Cavalier Lucien Arkas the Order of Merit for Officer grade and thanks him for making Izmir a cultural centre with his personal achievements, which he gained by leading the success of Arkas Holding, and with Arkas Art Centre, which he is a patron of, as well as for the financial and sincere support he provided in 2016 for the continuation of education at the only Italian school in Izmir "Özel İtalyan Ana ve İlkokulu" (a private Italian kindergarten and primary school), which ensured the continuation of both the school and Italian language teaching for more than 120 years.
Keeping the Italian Culture and Language Alive in Izmir
Lucien Arkas said: "My grandmother's family came to Izmir from Tuscany, Italy in 1820. My grandfather donated the land of Özel İtalyan Ana ve İlkokulu in Izmir and later they built the school. At first it was a kindergarten, but then a primary school was added as well, when the Italian nuns arrived. I also studied there.  And when its closure came up, I wanted to keep it alive. I asked for the permission of the Italian Charity based in Rome. 'Özel İtalyan Ana ve İlkokulu', built in 1899 in Izmir and once managed by Nuns, has continued to provide education since 2016 with the support of Arkas Education and Culture Foundation. What I want to say is that I do not want the Italian culture and language to disappear. The honorable Consul and the Italian Republic have appreciated this and granted this valuable award. I work on what I believe, without expecting any appreciation, but it is nice to be appreciated. Receiving this order is a great honor for me. I'd like to thank the State of Italy."
He Has Been Awarded Six State Orders of Merit
Apart from Italy, Lucien Arkas has also six different orders given by France and Austria.  In the past years, he was honored with the French Ordre national du Mérite for the Knight grade, the French Legion d'Honneur for the Knight grade, the Italian Republic's Ordine al Merito for the Knight grade, the Republic of Austria's Großes Silbernes Order of Merit and lastly the French Officier dans l'Ordre National du Merite.