Following the end of the Tokyo 2020 Olympic Games, the Turkish Sailing Federation has already focused on the Paris 2024 Olympics and started preparing stronger for the next games with its logistics sponsor Arkas.
Right after its successful performance at the Tokyo 2020 Olympic Games, which it participated in with the largest delegation of its history, the Turkish Sailing Federation has started making preparations with all its staff without skipping a beat for the 2024 Olympic Games to be held in Paris from July 26 to August 11 in 2024. The Federation will receive the logistics support of Arkas, a leading maritime and transport company in Turkey. Ozlem Akdurak, Turkish Sailing Federation President, and Bernard Arkas, Vice President of Arkas Holding, have gathered at Arkas Holding on Wednesday 25th August to announce their collaboration.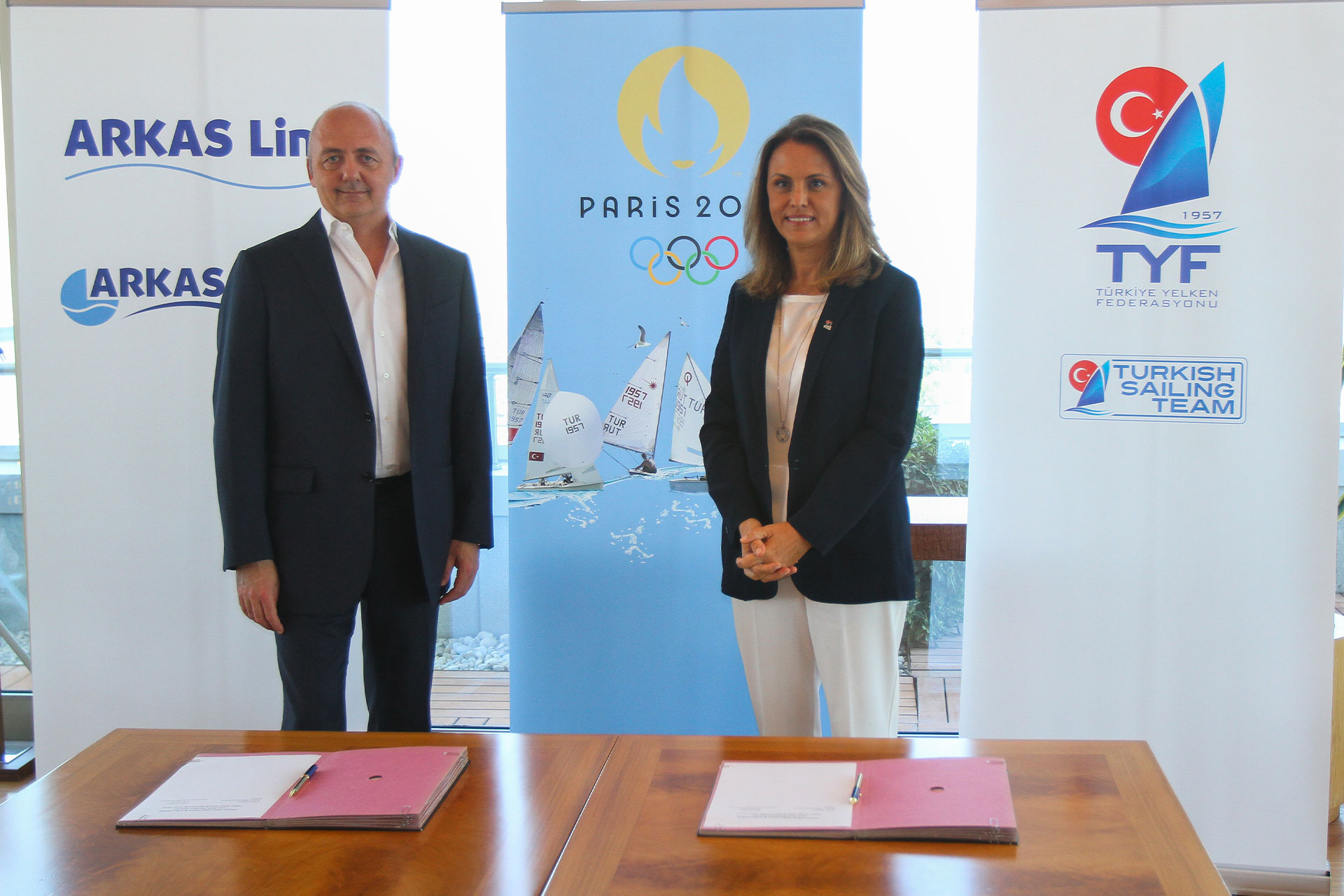 Stating that Marseilles will be the sailing venue for the next Olympic Games, the Turkish Sailing Federation President Ozlem Akdurak continued: "Indeed, it is very good news that we will get Arkas' support for our logistics expenses that represent an important cost item in this kind of sports.  Arkas Holding Vice President Bernard Arkas' passion for sailing as well as his contributions both to the training of new athletes and to the international success of Turkish yachting enhance the significance of the support that will be provided to our Federation. Given the importance of Marseilles for the Arkas family and the experiences that Arkas Holding holds in the maritime transportation and logistics sectors, I believe that we will prepare stronger for the Paris 2024 Olympic Games thanks to their support."
Bernard Arkas, Vice President of Arkas Holding, said: "Sailing is a kind of sport, which we believe should develop in Turkey, and is also one of the main branches of Arkas Sports Club, for the development of which we have invested in with our professional sailing team, sailing schools and regattas that we have organized for years. From day one we have started off with the aim to make sailing popular among the young generation by creating healthy environments that they require for this sport and to raise Olympic athletes in the long term with a professional perspective. At Arkas Cesme Sailing Sports Club, we are training young athletes who have already made many significant achievements in European and World regattas. We have seen in the Tokyo 2020 Olympics that very successful results can be achieved, once investments are made and importance is attached to this area. Our national athletes have made us proud. Therefore, we would like to congratulate the Turkish Sailing Federation and our athletes before Ozlem Akdurak. We believe that greater accomplishments to be achieved in the Paris 2024 Olympics will pave the way for the development of sailing in Turkey. As a Turkish family, who came to Izmir from Marseilles in 1711 and whose expertise lies in maritime transportation in the Mediterranean, we are glad to be the Transport and Logistics sponsor of the Turkish Sailing Federation for the 2024 Paris Olympics to be held in Marseilles.