Arkas Spor, continuing it's AXA Sigorta Efeler League title race with a 5-game winning streak, has visited two schools in Izmir which attach great value to volleyball. The blue-whites of Arkas and the staff visited Isikkent Education Campus to see their young fans. The meeting at school's conference room started with the briefing of Arkas Sports Club Youth Girl's Team Executive Onur Isikci. Isikci stated that they spent great efforts to get young people interested in volleyball and inject the love of this beautiful sport and that they have made a huge progress on this matter. Then Arkas Spor players Caner Ergul, Cagatay Durmaz, Mirza Lagumdzija, Mustafa Cengiz, Jay Blankenau, Paulo Bravo, Halit Kurtulus spoke about themselves briefly. Manager Glenn Hoag, Assistant Manager Atilla Oztire and Conditioning Coach Nurcan Celep were also present at the event. After the Q&A, the group moved on to the school's sports hall. Arkas Spor's exhibition match with school's girls volleyball team was a great entertainment to the spectators. The students, who had the opportunity to play with their role model players that they watch with great affection, became parts of moments that they won't forget for a long time.
Two days after this event, Arkas Spor visited Mavisehir's Eraslan School. The group consisting of Mustafa Koc, Efe Mandırac, Burak Cevik, Muhammet Kaya, Yigit Gulmezoglu, Adis Lagumdzija, Mert Matic, Burak Gungor and the staff was welcomed very warmly. The Arkas Spor group answered the many interesting questions of the students and passed on their knowledge on the details volleyball. The blue-whites moved to the sports hall for an exhibition match after being bombarded by questions on many areas such as health, team spirit, personal attributes. Everyone on the stands were all eyes for the match between Eraslan School and the players, which was a fun event to be a part of. The event ended as the athletes and staff gave their autographs to the students.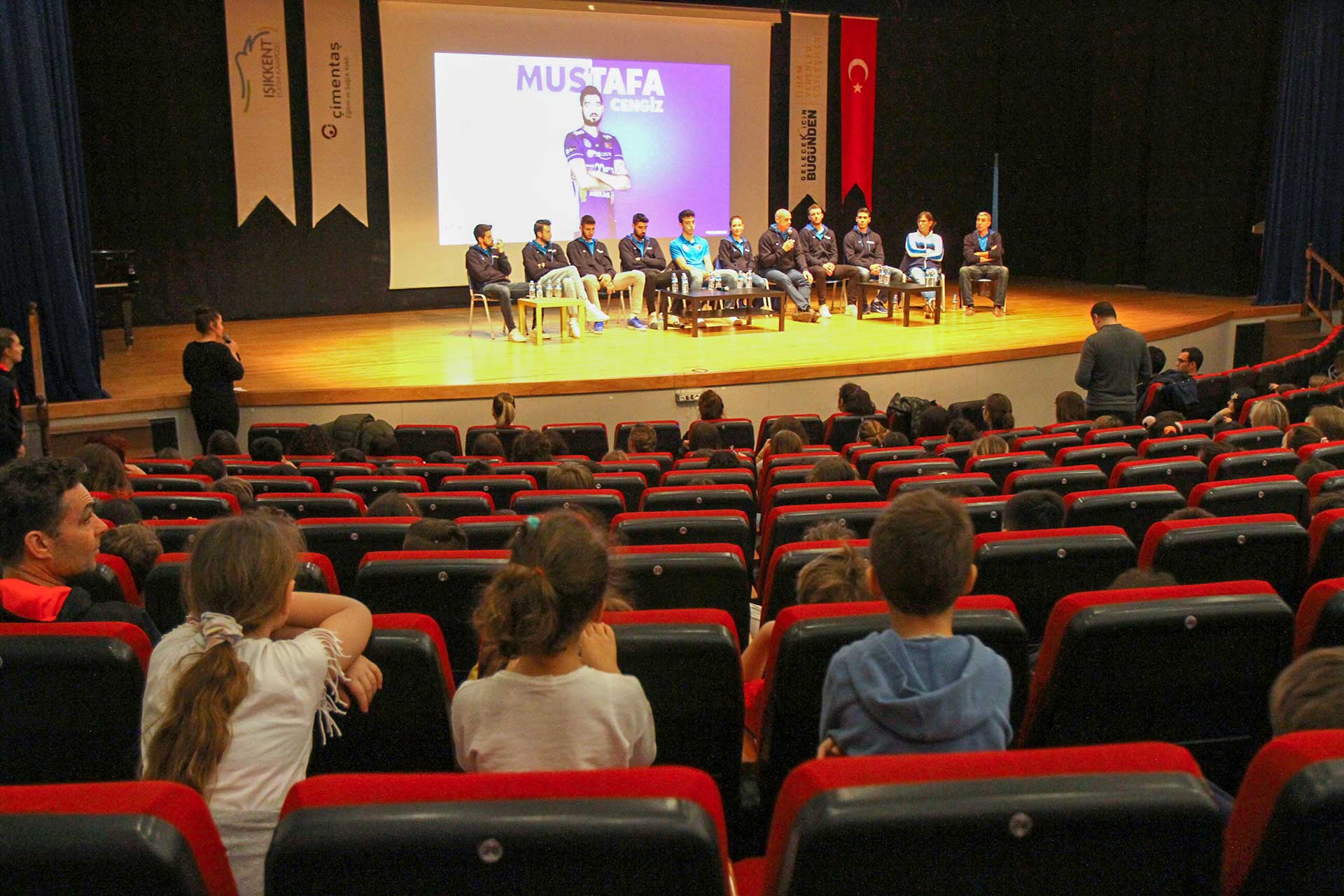 Arkas Spor scouts young talents
Seeking to discover new talent in İzmir and across Turkey and help promote sports at the grass-roots level, raise top-quality players for the Turkish National Team and reignite the love for sports among the younger generation, the club injects a love of sports not just into teenagers but also children. With its Basic Movement Training for 3 to 6 years old, Arkas Sports tries to inspire a love for sports in young people, help them make sports a part of their lives at an early age, widen their areas of activity and teach them to control their own bodies.
Volleyball schools, which have been active since 2001, have so far touched the lives of more than 11 thousand children in Izmir.