Arkas Aegean Link Regatta, the yacht race of Cesme, has concluded its three-day thrill. Baby Dracula came on top overall, followed by Arkas Blue Moon and Corendon Cheese in the annual event, which was organized for the sixth time in a collaboration among Arkas, the Turkish Sailing Federation and EAYK Cesme Marina. After competing in the sea for three days, the teams got together at the closing party in Yuzu Beach on Sunday.
Spanning between 26-28 August, the Arkas Aegean Link Regatta was held for the sixth time this year in Cesme. 38 boats and nearly 300 sailors brought life to Ovacik, Ilica and Cesme beaches in a total of five races over three days.
Following the opening cocktail at Cesme Marina Yacht Club on August 25, the race kicked off on August 26. On August 26, the first day of the race, 37 boats competed on the Cesme-Alacati geographical route, creating a visual feast for the residents of Cesme. The wind speed, which varied between 5-8 knots at various locations, reset the dynamics of the competition. The race was essentially a battle of tactics, where boats with the best wind handling came through the finishing line first. Arkas Blue Moon won, Team Spirit came second and Lemon, third.
A wind speed of 7-8 knots, reinforcing the challenge on the second day. The two races off the coast of Cesme-Alacati, saw Arkas Blue Moon coming first, followed by Anything and Team Spirit in the IRC-O category. Borusan Racing Evolution won the IRC 1 category, with Linea Rossa and Twenty Seven coming in second and third.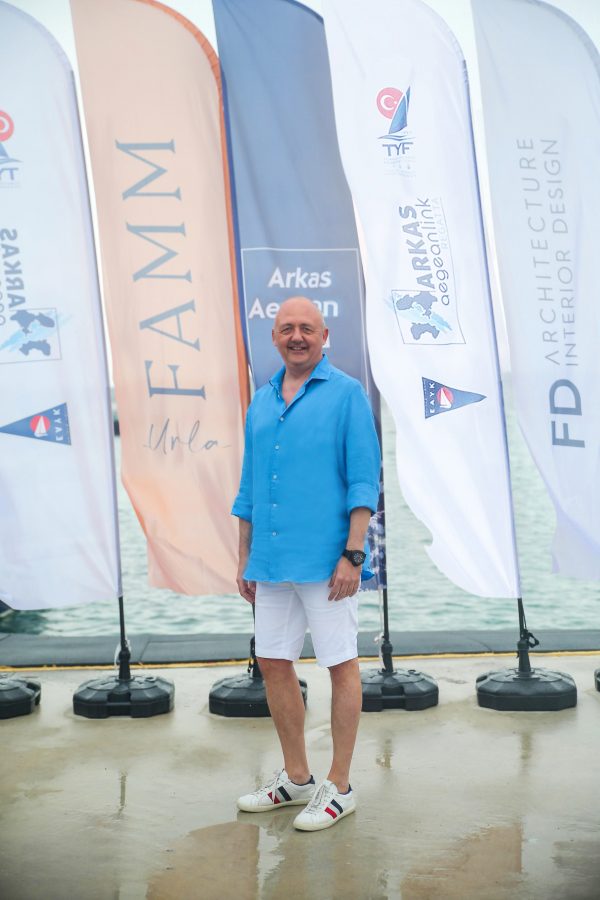 The third day witnessed a breathtaking competition. In two races, one buoy and one geographical, the winner of the IRC-O category was Arkas Blue Moon, followed by Team Spirit and Lemon. Borusan Racing Evolution won the IRC 1 category again, trailed by Team Linea Rossa and Sailmaster-Izocam Sailing Team.
At the end of the three days, the overall winner was Baby Dracula, followed by Arkas Blue Moon and Corendon Cheese. In the support groups, Alexandre Dreams came first in Support 1 and Auriga in Support 2.
At the Arkas Aegean Link Regatta, sea enthusiasts received their trophies and earned their rest at the special closing party held at Yuzu Beach on Sunday.
At the trophy ceremony held before the party, Baby Dragon received its trophy from Arkas Holding Vice President Bernard Arkas. The team will hold the cup for a year.
Speaking at the closing party, Bernard Arkas, said: "Our commitment to the sustainability of our race event is six years old, but it is as fresh as day one. A total of 236 boats and nearly 2000 athletes competed in the Arkas Aegean Link Regatta in the past 6 years. This year we had 38 boats, and also two boats from Bulgaria and Russia. On the first day the wind was not on our side, but on the third day it made up for it. I hope everyone had a lot of fun, and that it was a good race for all of you. See you again next year."
Cesme Mayor Ekrem Oran said, "The wind is what makes Cesme. We spent the whole summer under very strong winds, but then suddenly we were calm. I congratulate you all for putting up a very good competition. Cesme means sports, sailing, gastronomy and culture. I would like to extend my warm gratitude to my school friend Bernard Arkas, and Arkas. What you see before you is indeed their great support for Cesme. I would also like to thank them for their support for the education of children in Cesme. I am proud that Cesme has hosted this amazing regatta. I hope to meet you in many more regattas to come."
Cesme EAYK Chairman Akif Sezer said, "With the award ceremony, we are ending another beautiful Arkas Aegean Link Regatta this evening. I would like to thank you all very much, and hope to meet again next year on this beautiful track."