In recent weeks, the waste collected on the shores of Cesme in cooperation with Arkas and Turmepa has been transformed into a work of art. The collected 40 kg of waste was shaped into a sailboat by the children in the "Life in Water" art workshop.
Arkas TURMEPA II, a social responsibility project launched 16 years ago in cooperation with Arkas and TURMEPA, opened the 2022 season with the "Awareness for the Family with Arkas Blue for Green Platform" event. Within the scope of the project, Arkas employees and their families mobilised for a coastal clean-up in Cesme and collected 40 kg of waste, which was then transformed into works of art.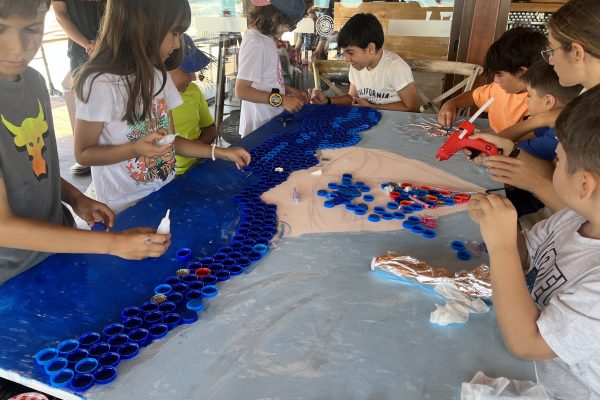 Children Transformed 40 Kg Waste into Sailboats
One of the 17 global goals set by the United Nations for sustainable development is to protect and sustainably use the oceans, seas and marine resources under the title "Life in Water". In this context, Arkas continues its efforts to raise awareness especially among children and young people about a sustainable world and took another step in this regard with the children's workshop it organised. In the art workshop, which was held to ensure that the wastes that cause marine pollution can be recycled and reused instead of throwing them into the garbage to harm the nature, the children transformed the 40 kilograms of waste collected into a sailboat accompanied by the instructor. In the event, which was organised to raise awareness about environmental cleanliness and to draw attention to the importance of biodiversity in the seas, 20 children made applications in two classes of 10 students each. In the first workshop, a sailboat design suitable for canvas was prepared with waste materials, while in the second workshop, sea creatures showing the biodiversity in the sea were prepared and added to the canvas. Working with many different materials from pet bottles to buttons, beads to metal cans, children learnt about recycling and sustainability and had a pleasant time.